High Honor for Forestry Professor
Peter Kanowski receives an honorary doctorate from the Faculty of Environment and Natural Resources at the University of Freiburg
Freiburg, Jul 12, 2019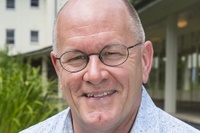 Peter Kanowski. Photo: private
The Faculty of Environment and Natural Resources at the University of Freiburg is awarding an honorary doctorate to Prof. Dr. Peter Kanowski. A Professor of Forestry at the Australian National University in Canberra, Kanowski is one of the most renowned researchers worldwide in the field of international forest governance. For the past three years, he has also been teaching at the University of Freiburg for one month every summer.
The Faculty says it chose to award the doctorate to Kanowski based on his outstanding research and commitment – and also because of the ideas he has contributed to many international initiatives involved in forest-related issues. His primarily focus is on conflicts regarding the use of forests and other natural resources, for which he strives to find solutions grounded in scientific evidence. While serving as a high-ranking official in several organizations, he has significantly contributed to international discussions concerning the intensive management of forest plantations and the genetic modification of trees. Kanowski has always believed that scientific evidence should be the foundation for making management and policy decisions, and during his time as Deputy Director General of the Center for International Forestry Research (CIFOR), he founded a much recognized international initiative for evidence-based forestry research.
Thanks to his integrity and authority, Kanowski has earned great respect from scientists, policy makers, and representatives of civil society. For this reason, he is frequently asked to head inquiries on controversial and politically charged issues, including the Council of Australian Governments' National Bushfire Inquiry following the bushfire catastrophe of 2003.
Kanowski is an inspiring and charismatic leader, said the Faculty in explanation of its decision. Not only was it impressed with Kanowski's approach to scientific and sociopolitical issues related to forests and the environment, it also commends his expertise and his qualities as a teacher, advisor, and mentor. He has already received many awards for his work as an educator. Furthermore, with his immense skill and experience – for example, as a leader in the International Partnership for Forestry Education (IPFE) – he has also contributed significantly to cultivating the international focus of the University of Freiburg's Master of Sciences in Forest Sciences degree program.
Contact:
Prof. Dr. Jürgen Bauhus
Faculty of Environment and Natural Resources
University of Freiburg
Phone: +49 (0)761 / 203–3677
waldbau@waldbau.uni-freiburg.de