New units, more service
The Rectorate has decided on the reorganization of the Central University Administration
Freiburg, Sep 30, 2021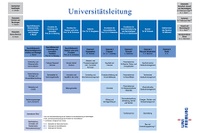 Organigram in larger view: below the text as PDF.
In its meeting on August 4, 2021, the Rectorate at the University of Freiburg decided that the Central University Administration (ZUV) will be restructured. This new structure will come into effect from September 1, 2021. For the Chancellor's area of responsibility, which includes in particular business and personnel administration, the reform was already largely implemented last year upon the Rectorate's decision on November 25, 2020. "My predecessor in office started the restructuring process," Rector Prof. Dr. Kerstin Krieglstein explains the procedure. "My colleagues in the Rectorate and I have continued the process and once again opened it up for participation so that we could continue and expand on the path we have begun. In doing so, we are positioning the University to be modern and competitive for the future."
Business units, staff units, departments, divisions
The previous departments 1 to 5, under the responsibility of the Chancellor Dr. Matthias Schenek, as well as the staff units Safety, Environment and Sustainability, Internal Audit, Committees and Appeals, will be retained with minor changes. In addition, three business units composed of different sections will be established: The Business Unit Science Communication and Strategy comprises six sections, four of which are assigned to Julia Wandt and, for the duration of their terms, one each to Prof. Dr. Daniela Kleinschmit, Vice-President for Internationalization Affairs and Sustainability, and Prof. Dr. Sylvia Paletschek, Vice-President for University Culture. The Business Unit Research and Innovation reports to Prof. Dr. Stefan Rensing. Prof. Dr. Michael Schwarze is responsible for the Business Unit Academic Affairs. This new business unit has reduced the number of smaller units and merged the business units into larger administrative units, as formulated as a goal for universities by the Baden-Württemberg Ministry of Science, Research and the Arts (MWK) and the Baden-Württemberg Ministry of Finance. With the new structure, the Rectorate aims in particular to intensify cooperation between all departments and divisions across departmental boundaries.
Optimum support for decentralized institutions
"It was important to us to bundle topics and areas in the Central University Administration in order to strengthen it," says Krieglstein. "Thanks to the new structures, we as the Rectorate can better develop and implement common goals for the University. The Central University Administration and its cooperation with all decentralized units of the University will provide optimum support for this in its new form." If departments need to fill management positions, they will be advertised in a timely manner. And to ensure that ZUV employees are located as close as possible to each other within their work areas and also in appropriate physical proximity to the respective business units and departments, Department 1 Organization is currently busy revising room assignments.

Organigram (in German)