The University Library will remain closed on Thursday, September 14, 2023
Routine inspections and technical equipment maintenance
Freiburg, Sep 11, 2023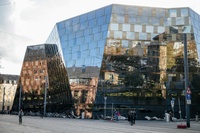 Photo: Sandra Meyndt
The University Library (UB) Freiburg will be closed all day on Thursday, September 14, 2023, for routine checks and maintenance work on its technical systems. They include the fire alarm system, the elevators and other works, as well as work on the power supply. As in previous years, there will also be a siren test and a check of the loudspeakers. This is accompanied by major restrictions on use, which is why the UB will be closed to visitors for the entire day.
Decentralised libraries open, web services available
For optimal conditions, the checks and maintenance work have to take place on a regular working day in order to ensure, among other things, the rapid availability of the service providers involved. In order to keep disruptions to a minimum, a date during the semester break was chosen. On that day, the decentralised libraries of the University of Freiburg will continue to be open to students as places of learning. In addition, the UB's web services can also be used during this maintenance phase. The University of Freiburg wishes to thank UB visitors for their understanding and regrets any inconvenience caused by these measures.
Contact:
University Library Freiburg
Directorate
University of Freiburg
Tel.: 0761/203-3900
e-mail: direktion@ub.uni-freiburg.de

Office of University and Science Communications
University of Freiburg
Tel.: 0761/203-4302
e-mail: kommunikation@zv.uni-freiburg.de