Distinguished professorship for Freiburg immunologist
Marta Rizzi has taken on a Heisenberg professorship at the University of Freiburg on April 1, 2023 with a research focus on immunodeficiencies
Freiburg, May 23, 2023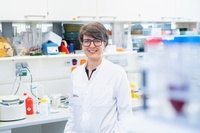 Marta Rizzi is researching the causes of immunodeficiencies as part of her Heisenberg Professorship. Credit: Medical Center – University of Freiburg
Medical scientist Prof. Dr. Marta Rizzi has taken on a Heisenberg Professorship of the German Research Foundation (DFG) at the Faculty of Medicine at the University of Freiburg on April 1. With her research group at the Department of Rheumatology and Clinical Immunology at the Medical Center – University of Freiburg, Rizzi is particularly investigating the development, maturation and activation of human B cells, which play a central role in the acquired immune defence as well as in severe immunodeficiencies. The Heisenberg Professorship is awarded to outstanding scientists and represents a step towards taking up a long-term professorship.
"Marta Rizzi's research has the potential to have a significant impact on medicine. The Heisenberg Professorship is a great confirmation of her scientific excellence and promotes the already strong immune research in Freiburg," says Prof. Dr. Lutz Hein, Dean of the Faculty of Medicine at the University of Freiburg and Member of the Board for the Medical Center – University of Freiburg.
Deciphering the causes of immunodeficiencies
Prof. Rizzi wants to decipher disease mechanisms in congenital immunodeficiencies as well as in rheumatological diseases such as rheumatoid arthritis and thus help develop new therapeutic approaches and make treatment safer. "Understanding how B lymphocytes develop and how they are activated provides important insights into how the human immune system works." B lymphocytes, also called B cells, are a type of white blood cell responsible for producing antibodies. They have the unique ability to turn into memory cells that allow for a faster and stronger immune response in future encounters with the same pathogen. "We hope that our research will help lay the groundwork for the development of new therapies for diseases, including autoimmune diseases and immunodeficiencies," says Rizzi.
About Prof. Dr. Marta Rizzi
After studying medicine at the University of Genoa/Italy, Rizzi completed her PhD in Clinical and Experimental Immunology in Genoa/Italy and San Diego/California in 2004. In 2007, she completed her residency training in Immunology. Since 2006, she has been conducting research at the University Medical Center Freiburg - initially as a postdoctoral fellow, and later as head of a research group since 2014. From 2012 to 2014, she was a participant in the EIRA Mentoring Program at the Faculty of Medicine. Since 2022, she is also Professor of Clinical and Experimental Immunology at the Medical University of Vienna. She is a member of the Cluster of Excellence CIBSS Centre for Integrative Biological Signalling Studies at the University of Freiburg.