Charalampos Pappas receives ERC Starting Grant
Chemist from Freiburg will do research on self-assembling materials in the project "PhosphotoSupraChem"
Freiburg, Sep 05, 2023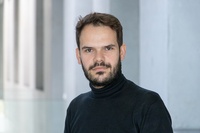 Charalampos Pappas. Photo: Michal Rössler
Chemist Dr. Charalampos Pappas from the Cluster of Excellence Living, Adaptive and Energy-autonomous Materials Systems (livMatS) at the University of Freiburg has received a Starting Grant from the European Research Council (ERC) for his research on self-assembling materials. Pappas will receive 1.5 million euros over five years for his project "PhosphotoSupraChem". In his project, he will develop structured fuels from phosphates in order to fabricate self-assembling materials that can dynamically reconfigure and adapt to environmental cues. He will use approaches from systems chemistry, a new field of research that deals with networks of interacting molecules. "Phosphates and phosphate esters underpin almost all biological function. In particular, triphosphate fuels are involved as energy source in metabolic processes," explains Pappas. "Despite their multifaceted role in sustaining life, the way in which these fuels can be used beyond biology in systems chemistry is still largely unexplored."
Molecular assemblies far from thermodynamic equilibrium

Traditionally chemistry has been designed to yield stable molecules that can be isolated. "Living systems, on the other hand, consist of molecules that are constantly changing and are not thermodynamically stable. That means that they interact with their environment, exchanging matter or energy," states Pappas. This allows them to respond to external stimuli and adapt to change.
"Such systems form molecules at approximately the same rate as they are being degraded under the consumption of energy sources: so-called fuels." Systems chemistry seeks to recreate such structures, known as dissipative non-equilibrium systems in which assemblies and molecules are constantly reconfigured. The new conceptual approaches to direct non-equilibrium systems are enabling methods to reach new levels of control for switchable self-assembling systems. They pave the way towards dynamic and programmable materials that respond to their environment in predefined ways.
Structured fuels for defined tasks

Naturally occurring fuels based on phosphates, such as adenosine triphosphate (ATP) or guanosine triphosphate (GTP), drive selective processes by incorporating chemical information into the structure of the fuels. Pappas will investigate this property by incorporating structural and recognition elements into the structure of synthetic phosphate fuels. "They will be equipped with amino acids and nucleobases encoding structural assembly of fuels prior to their consumption to control selectivity in reaction networks." Moreover, the phosphate fuels will be used to transfer large chemical groups onto self-assembling species. "This will enable the folding and synthesis of large molecules in water such as oligoamides and oligonucleotides." Based on his findings, Pappas will also develop a controllable use of the phosphate fuels towards microfluidic materials discovery.

About Charalampos Pappas
Charalampos Pappas has been a junior research group leader at the Cluster of Excellence Living, Adaptive and Energy-autonomous Materials Systems (livMatS) at the University of Freiburg since 2020. In addition, he is a member of the Freiburg Center for Interactive Materials and Bioinspired Technologies (FIT). He studied chemistry at the Universities of Ioannina in Greece, in Glasgow, Scotland in the UK, in New York City, New York in the US and in Groningen in The Netherlands. He completed his doctorate at the University of Strathclyde in Glasgow and at the Advanced Science Research Center of the City University of New York. In 2017, he received a Marie Skłodowska Curie Action grant from the European Commission, which he used to conduct research at the University of Groningen before moving to the University of Freiburg in 2020.
About the Cluster of Excellence livMatS
The Cluster of Excellence "Living, Adaptive and Energy-autonomous Materials Systems" (livMatS) at the University of Freiburg develops life-like material systems inspired by nature. The systems will be able to adapt autonomously to their environment, harvest clean energy from it, and be insensitive to damage, or able to recover from it.
More on Charalampos Pappas' research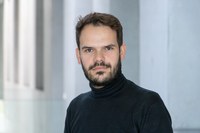 Charalampos Pappas. Photo: Michal Rössler
­­­­