Student "project workshops" on sustainable development launch
Applications for interdisciplinary course as part of the "Zertifikat Nachhaltigkeit" (Sustainability Certificate) open until July 12
Freiburg, Jul 05, 2022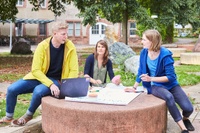 Project teams focus on knowledge and skills for sustainable development. Photo. Harald Neumann
Students of all disciplines can apply for a new teaching offer: a self-organized "project workshop". The deadline for submitting an application is July 12, 2022. The project workshops will then take place for the first time in the winter semester 2022/23. They are part of the voluntary and additional teaching offer "Certificate Sustainability" at the Center for Key Qualifications (Zentrum für Schlüsselqualifikationen, ZfS) of the University of Freiburg.
Theoretical topics and practical ideas possible
At the center of a project workshop is a sustainability topic that is addressed using theoretical and/or practical approaches and methods. This can involve, for example, theoretical approaches to alternative economic models or practical projects such as the development of a neighborhood supply concept as a path to food sovereignty or a science-based play about biodiversity. All project workshops are supported by research assistants as professional guidance and by tutors if needed, but are designed and organized by students themselves. The workshops are worth four ECTS credits. These can be credited for Bachelor's degree programs in the BOK area, for other degree programs the credit depends on the respective examination regulations.
The prerequisite is an application on a sustainability-relevant topic, which must be received by the ZfS by July 12, 2022. In addition, an academic staff member must support the project workshop and approve the course work. The program advisory board of the "Zertifikat Nachhaltigkeit" will decide on the applications in mid-July.
Sustainability Certificate
The "Zertifikat Nachhaltigkeit" (Sustainability Certificate) is a voluntary course for students of the University of Freiburg of all disciplines, in which they can deal with relevant sustainability issues of the 21st century in an interdisciplinary way. It was created on the initiative of the student sustainability office and received funding from the Student Council of the University of Freiburg (StuRa). It is run by the Office of Safety, Environment and Sustainability, together with the Center for Key Qualifications and a program advisory board.
Application form, contact and further information on the Sustainability Project Workshop at:
https://www.zfs.uni-freiburg.de/de/zertifikat-nachhaltigkeit/programm-fuer-studierende/praxisbereich/projektwerkstaetten
Further information on the Sustainability Certificate at:
https://www.zfs.uni-freiburg.de/de/zertifikat-nachhaltigkeit
Contact:
Christoph Pfisterer
Project Zertifikat Nachhaltigkeit
Center for Key Qualifications (Zentrum für Schlüsselqualifikationen, ZfS) University of Freiburg
Phone: +49 (0)761 / 203 - 95245
E-Mail: zertfikat-nachhaltigkeit@zfs.uni-freiburg.de
Annette Kollefrath-Persch
Office of University and Science Communications
University of Freiburg
Phone: +49 (0)761 / 203 - 8909
E-Mail: annette.persch@zv.uni-freiburg.de