Effect of Forest Management on the Mortality of Beech Trees in Years of Drought 2018/19
Research team studied elevenHessian natural forest without logging and neighboring commercial forests
Freiburg, Feb 14, 2022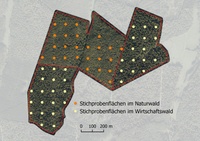 This aerial photograph from 2018 shows the study design with systematically distributed sample sites in a natural forest reserve with a dense and closed canopy (orange) and in a neighboring managed forest with a thinned canopy (yellow). Image: NW-FVA.
The extreme drought years of 2018 and 2019 led to the death of numerous forest stands. The effects were not limited to spruce forests, which are generally known to be sensitive, but also extended to beech forests, which are typically considered to be robust, yet also often showed a noticeably sparse foliage and an increased mortality rate. Several German states responded by placing a moratorium on tree harvesting in old beech forests. A research team from the Northwest German Forest Research Institute (NW-FVA) and the University of Freiburg investigated whether the mortality rates of beeches in managed forests differed from those in unmanaged forests in the drought years 2018/19. The researchers wanted to find out whether tree mortality is increased by the management-induced opening of canopies. The team of scientists, led by Dr. Peter Meyer from the NW-FVA and Prof. Dr. Jürgen Bauhus from the Chair of Silviculture at the University of Freiburg, published their findings in the current issue of Plant Biology. 
"Our study shows neither a dramatic dying of beech forests nor a negative influence of forest management on the mortality rate," explains Meyer, lead author of the study. What the scientists were able to demonstrate, however, was that management alters the distribution of mortality within beech forests in drought years. "These findings indicate that the threat is not as acute as feared for many typical beech sites, but they cannot be extrapolated to all situations," adds Bauhus, co-author of the study: "To do so, one would need to study a broader spectrum of beech forests with a greater variation in water balance. This concerns both drier sites than those included in our study in Hesse and longer periods after drought years."
Lower beech mortality than assumed in drought years
The team conducted the research in eleven Hessian natural forest reserves without timber harvesting and in neighboring managed forests, where beeches have been regularly measured and assessed for more than 30 years. The study showed that surprisingly few beech trees died in the extreme drought years of 2018 and 2019 and that there was no observable disintegration of the canopy.
Management in drought years alters distribution of mortality
In the unmanaged stands, however, significantly more beech trees died in the forest and mid- and understory. According to the researchers, the main cause of this was evidently drought stress in combination with more competition from neighboring trees in the very dense forests. Less trees died overall in the managed reference stands, but those that did die tended to be larger. The likely cause of this were problems with water transport in the trees owing to the persistent drought.
Original publication:
Meyer, P., Spînu, A. P., Mölder, A., Bauhus, J. (2022): Management alters drought-induced mortality patterns in European beech (Fagus sylvatica L.) forests. In: Plant Biology. DOI: https://doi.org/10.1111/plb.13396
Pressefoto zum Download
Grafik: NW-FVA
Contact:
Prof. Dr. Jürgen Bauhus
Chair of Silviculture
Faculty of Environment and Natural Resources
University of Freiburg
Tel.: +49 (0)761/203-3677
Email: juergen.bauhus@waldbau.uni-freiburg.de
www.waldbau.uni-freiburg.de
Dr. Peter Meyer
Northwest German Forest Research Institute
Department of Forest Conservation
Hannoversch Münden
Tel.: +49 (0)551/69401-180
Email: peter.meyer@nw-fva.de
www.nw-fva.de
Annette Kollefrath-Persch
University and Science Communications
University of Freiburg
Tel.: +49 (0)761/203-8909
Email: annette.persch@pr.uni-freiburg.de