Uniseum open again
New pieces give visitors insight into the university's history
Freiburg, Sep 16, 2020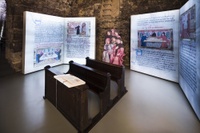 Photo: Jürgen Gocke
The Uniseum's exhibition rooms are open again after a pause due to the coronavirus pandemic and fire safety work.  Visitors can immerse themselves in University of Freiburg history on Thursdays, Fridays, and Saturdays from 2 p.m. to 6 p.m. Admission is free of charge. Three new exhibition areas provide an intriguing look at the university during times of plague, and feature pieces from the Anatomical-Anthropological Collection, and the Academic Film Club. 
Special exhibition "Fleeing to Villingen to Avoid Plague" ("Pestflucht nach Villingen" )
Although the pandemic caused by SARS-CoV-2 poses challenges for the university, viewed historically, schedule changes brought about by epidemics are nothing new.  Until the start of the 17th century, the University of Freiburg repeatedly cleared out during plague outbreaks to seek refuge in other places, such as Villingen, for example.  This new part of the exhibition is dedicated to the university's escapes to Villingen and how plague outbreaks were handled.
New display for the Anatomical-Anthropological Collection
The former Uniseum exhibition dedicated to Alexander Ecker – an anatomist and anthropologist who began working in Freiburg in 1850 – and the Anatomical-Anthropological Collection he established have been revamped.  The collection includes human remains that, viewed from today's perspective, were obtained in an ethically and scientifically problematic way. During the course of an interdisciplinary graduate seminar, students first developed a concept to address this background on a wall in the exhibition space when the unit was renewed.  The exhibition was also expanded with a hexagonal display case thanks to the financial support of the Freiburg Alumni Booster Association, the Burckhardt Foundation of the United Academic Foundation-Administration of the University of Freiburg, and the Dr. Rolf Böhme Foundation of the bank, Sparkasse – Freiburg-Northern Breisgau. The display examines questions surrounding the skull collection from a range of perspectives and incorporates new findings.
Exhibition piece "Kino aus dem Koffer" ("Cinema in a Suitcase")
The Academic Film Club has permanently loaned the 1930s-vintage portable film projector "Zeiss Ikon Kinobox" to the Uniseum. In the past, projectionists travelled with it from place to place, converting almost any space into a cinema. The Academic Film Club acquired the projector in 1962, allowing the university to show movies in standard 35mm film format.  Although the "Kinobox" was only in use for around three years, the screenings marked the start of a new era in student cinema in Freiburg.
Uniseum curator Sandra Haas has pointed out that due to current public health regulations, no museum tours are being held and audio guides may not be used at this time. 
Information on public health regulations at the Uniseum (in German)
Notes on the Anatomical-Anthropological Collection (in German)