The preliminary election results are in
The University of Freiburg has selected its representatives in the senate and faculty councils
Freiburg, Jun 26, 2019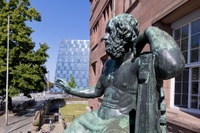 Photo: Jürgen Gocke
During the University elections on June 25, 2019, University lecturers, academic staff, students and registered doctoral candidates as well as administrative and technical staff of the University of Freiburg elected their representatives to the senate and faculty councils. The turnout in the elections to the Senate was between 39 and 100 per cent among University teachers and 13.64 per cent among students.
The senate represents all areas of the University. The term of office of the newly elected members of the students and doctoral candidates is one year; that of the other members is four years. The terms of office begin on October 1, 2019. Due to their office, the rector, the chancellor and the faculty equal opportunities representative are also members of the committee. The faculty council and the great faculty councils have similar tasks and functions at faculty level as the senate for the University as a whole.
The 2019 University elections were held for the first time on the basis of the amended State University Act and a correspondingly revised electoral code. The changes relate in particular to the composition and the majority ratios in the university committees.
The preliminary election results