The University of Freiburg is Tops
The funding atlas of the German Research Foundation confirms the outstanding performance of the University of Freiburg and its academics
Freiburg, Jul 05, 2018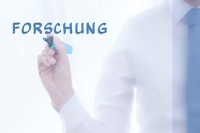 Source: CrazyCloud/Fotolia
Academics from the University of Freiburg have received almost 240 million euros in external funding from the Deutsche Forschungsgemeinschaft (German Research Foundation, DFG) between 2014 and 2016. This puts the university in seventh place nationally in the latest DFG Funding Atlas, as was also the case in the previous edition for 2011 to 2013. However, the total amount of external funding that a university raises largely depends on the number of professorships and their range of subjects – for instance, on average engineering science disciplines attract far higher levels of funding than humanities. The DFG has taken this into account in its analysis: in relation to the number of professorships and range of subjects it offers, the University of Freiburg took far and away the most funding awards in Germany, making it Number 1 in fact. So Freiburg moves up from second place to the top of Germany's universities.
"This excellent result is testament to the outstanding quality of our researchers and confirms our consistent strategy of past years, one which we will be reinforcing with our theme of "Connecting creative minds": we promote young talent, and at the Freiburg Institute for Advanced Studies we provide opportunities for cutting-edge research, as well as initiating a creative exchange and collaborative research across disciplinary boundaries," says Rector Prof. Dr. Hans-Jochen Schiewer. "The fact that we maintained the total amount of external funding awards is all the more remarkable because we didn't receive any more funding for a future concept in the Excellence Initiative in this period. We have proven our strength and our passion. And we have succeeded in being Number 1 in Germany with individual grants to research teams and training groups through to special research areas and clusters of excellence. My warmest thanks to everyone who has contributed to this amazing result."
As the DFG Funding Atlas also shows, in 2014 to 2016 Freiburg was among the frontrunners nationally in three of the four major scientific fields. Researchers from life sciences received 127.5 million euros, that is almost 800,000 euros per professorship. This puts them in first place in proportion to the number of professorships, or third place relative to the absolute level of funding. In a per capita comparison Engineering took second place with 845,000 euros per professorship, and 13th place with 34 million euros total funding. Researchers from humanities and social sciences took sixth place with almost 240,000 euros per professorship and 11th place with in total almost 34 million. In the individual fields, Medicine, Electrical Engineering – Informatics – System Engineering, Biology, History, Literature and Polymer Research each came in the Top 5 in Germany.