The main entrances to the University library have been reopened
Covered access to the building as well as construction fence has been built along the facade for safety reasons
Freiburg, Aug 10, 2018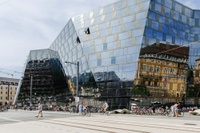 Actualization, August 11, 2018
After being closed for three days, both main entrances to the University library Freiburg (UB) have been opened since Saturday, August 11, 2018. A small retaining plate on the facade's supporting structure (about 4x16 centimeters in size) had come off and fallen to the ground – most likely due to the heat, University management in conjunction with the Freiburg Office of the Baden-Wuerttemberg Property and Construction Department and the police had decided to temporarily close the building's main entrance for security reasons.

A construction fence has been built around the UB and the main entrances now have covered access, thereby allowing barrier-free wheelchair access to the library. The outdoor operation of the cafeteria, however, will remain closed.

For safety reasons, the bicycles were transported along the fence to the square opposite the main entrance of KG I on Friday, August 10th. The University requests the bicycle owners' understanding during this time.
In order to retain the fire department's access to the building, the University is requesting that no bicycles be parked along the Milchstrasse construction fence or anywhere near the entrance. The University also asks to keep both handicap parking spaces free.