Drugs that Prevent Liver Failure
Physicist Jens Timmer Aims to Develop Drugs that Protect the Organ as a Project Partner in a Consortium
Freiburg, Apr 11, 2012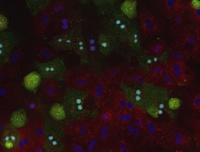 Healthy liver cells that have not been damaged by medicinal drugs (Photo: María Matilde Bartolomé Rodríguez)
Liver damage caused by medicinal drugs is one of the most common reasons for liver failure and liver transplants in the Western world. Nevertheless, it is difficult to predict which active ingredients will turn out to be toxic for the organ. Oftentimes the problems are not discovered until the drug is already on the market. Prof. Dr. Jens Timmer, Freiburg physicist and Director of the FRIAS School of Life Sciences – LifeNet, is a project partner in a consortium that wants to solve this problem. The European Union and the European Federation of Pharmaceutical Industries and Associations (EFPIA) are providing 34.7 million euros in funding for the project over the next five years.
The scientists aim to develop new testing methods within the context of the initiative "Mechanism-Based Improved Systems for the Prediction of Drug-Induced Liver Injury (MIP-DILI)" in order identify the potential of an active ingredient for damaging the liver at an early stage in the process of drug development, thus protecting future patients from liver failure. This will involve investigating the processes that toxic drugs set off in the liver. Jens Timmer, expert for the modeling of biochemical processes in the liver, will be engaged in the development of new computer models that will be used to reveal the complex interactions that lead to drug-induced liver failure.
The new consortium consists of eleven major pharmaceutical corporations and six small- and mid-sized companies as well as eight academic partners and one patient organization.
Jens Timmer is Director of the School of Life Sciences – LifeNet at the Freiburg Institute for Advanced Studies (FRIAS) and member of the Centre for Biological Signalling Studies (BIOSS) and the Spemann Graduate School of Biology and Medicine (SGBM). All three institutions receive funding within the context of the Excellence Initiative.
Further information at:
http://webber.physik.uni-freiburg.de/~jeti/
Contact:
Prof. Dr. Jens Timmer
FRIAS – Freiburg Institute for Advanced Studies
University of Freiburg
Phone: 0761/203-5829
E-Mail: jens.timmer@fdm.uni-freiburg.de