Transfer, Scientific Expertise, Accessibility
Presentation of the University Teaching Award and the Special Award for Student Commitment
Freiburg, Aug 22, 2018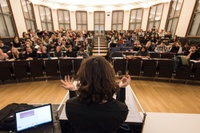 Photo: Patrick Seeger
The University of Freiburg is giving the 2018 University Teaching Award for outstanding performance to Dr. Sarah May, research assistant at the Institute of Cultural Anthropology and European Ethnology, as well as to Dr. Götz Fabry and Ariane Zeuner from the Institute of Medical Psychology and Sociology. Each award brings with it 5,000 euros. The Special Award for outstanding student commitment goes to Andreas Hanka. As a student of teaching he is receiving the award, which is endowed with 500 euros, for his contribution to issues affecting students with disabilities or chronic diseases.
Sarah May: Research-focused Teaching as an Opportunity
Since taking up her post in October 2016, Sarah May has led project-focused Bachelor's and Master's courses at the Institute of Cultural Anthropology and European Ethnology. Focused on the learning conveyed by the teaching concept of the researcher, these courses are characterized by how they treat cultural anthropological knowledge and impart it to a wider public, thereby setting trends in social debates and discourses. Using excursions, projects and exhibitions, she has given her students the opportunity to present the results of their own research. Examples of projects involving students in recent years include the exhibition "WarteArt" in the Uniseum and the book "Platz da!", in which, led by May, Master's students carried out practical ethnographic studies of urbanization in Freiburg. This enables students not only to broaden their individual expertise, but also to develop independent academic work and practical presentation skills. With her project-focused lessons and cooperative support for student research projects, May is making a considerable contribution to the development of the Institute of Cultural Anthropology and European Ethnology.
Sarah May's projects "WarteArt" and "Platz da!" in the online magazine of the University of Freiburg.
Götz Fabry and Ariane Zeuner: Scientific Expertise in Practice and Research
The course led by Götz Fabry and Ariane Zeuner aims to teach scientific skills to potential doctors. Methodical and statistical principles are not just relevant to doctoral and research projects. With new medical discoveries being published almost every day, students need to learn how to examine results critically from an early stage. Later too, when treating patients, it is important to have mastered scientific knowledge and methods. So, in their first year of studies, students learn the principles of good scientific practice. Over the course, they consolidate their skills with the aid of case reports or studies, which can involve them drawing on a wide range of online multimedia. At the same time, they alternate between working independently and in small teams, supported by student tutors. Teachers from various clinical fields, such as evidence-based medicine and epidemiology, provide background guidance in relation to clinical applications and current research projects. The course has been constantly under development since 2012, and has propelled the further development of the curriculum at the Faculty of Medicine as well as raising the profile of scientific ability in medical education in various national conference papers.
Andreas Hanka: Commitment to Students with Disabilities and Chronic Diseases
Andreas Hanka has been involved in various committees and boards since 2009: he was the student member of the Freiburg University Council, and from 2014 to 2017 a board member of the German Academic Exchange Service (DAAD) as well as the "Studieren-ohne-Hürden" team of the Freiburg Verfasste Studierendenschaft, the accessibility team of the student body. During his eight years as a member of "Studieren-ohne-Hürden", he worked hard both within the University of Freiburg and elsewhere to remove the many barriers to studying for those with disabilities or chronic diseases. Hanka was, for example, involved in the introduction of the role of the representative for students with disabilities or chronic diseases, and creating a legal framework for this post. He also spoke out for greater accessibility, for instance in the new University Library. And he brought great commitment to the promotion of an international study exchange, tailored to specific target groups.