Three new professors at the university
Reinforcements for the Romanisches Seminar and the Institute of Sustainable Technical Systems
Freiburg, Jan 26, 2018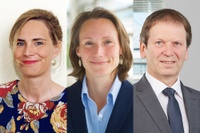 From left to right: Judith Frömmer, Anke Weidlich, Hans-Martin Henning. Fotos: Friedrich Schmidt, Klaus Polkowski, Fraunhofer ISE
Judith Frömmer is a professor of the Literature of the Romance Languages at the University of Freiburg's Faculty of Philology. Her research and teaching focus primarily on French and Italian literature of the early modern period. Its core areas are in the Italian renaissance culture, French literature in the Enlightenment and in the "long 19th century." Frömmer is interested in the question of to what extent literature may be read as political theory. How does space for political observation open up in the aesthetic dimension of texts?  Which literary techniques are employed by treatises and non-fiction works on the history of political thought? What kind of (hi)stories transported these ideas and carried them over into the Romance languages' literatures after the fall of the Roman Empire? How does it happen that intellectuals and literati such as Francesco Petrarca, Niccolò Machiavelli, and Jean-Jacques Rousseau initiated veritable systems, writing history and giving their names to their ideas - something they may not have intended to do?
Frömmer studied in Munich, Toulouse/france, Perugia/Italy, Oxford/England, and Hamburg. In 2005 she completed her doctorate at the Ludwig-Maximilians-Universität München, where she was a research fellow following a Humboldt Fellowship at the University of California in Berkeley. From 2010 to 2016 she had a scholarship to work on the project "The weapons of the prophets. Poetics and politics of prophetic practises in Florence in the Early Modern Period" at the Young Academy at the Bavarian Academy of Sciences and Humanities. In 2013 she completed her habilitation project on adaptation forms of the idea of crusade in Italian literature of the renaissance.  More recently, she has held guest professorships in Munich and Erfurt.
Anke Weidlich is Professor of Control and Integration of Grids at the University of Freiburg's Faculty of Engineering. The professorship has been recently created at the Institute of Sustainable Technical Systems. Weidlich's research is about how an electricity system can be made sufficiently flexible so as to be able to compensate at any time for fluctuations in the supply of renewable energies. The technical challenges of electricity grids are in focus, as is the question of where such flexibility can be used most efficiently and to exploit market mechanisms. Weidlich also works on ways to determine how sustainable various energy systems are.
Weidlich studied business engineering and subsequently completed studies in energy economics and energy policy in Paris. After research at Iowa State University in Ames, USA, she completed her doctorate in 2008 at Karlsruhe University. She then worked for SAP, collaborating in research projects in the areas of smart grids and electromobility. Before coming to Freiburg, Weidlich was Professor of Energy Systems Technologies and Energy Management - particularly decentralized energy systems and smart grids - at Offenburg University.
Hans-Martin Henning is Professor of Solar Energy Systems at the University of Freiburg's Faculty of Engineering. The professorship is shared with the management of the Fraunhofer Institute for Solar Energy Systems ISE in Freiburg. Henning's research fields are in building energy technology and energy systems analysis. Buildings are responsible for some 40 percent of Germany's energy expenditure. The aim is to reduce that demand in order to preserve resources such as oil and gas and to cut emissions of climate-harming gases, particularly CO2. In this context of technical solutions, the professorship focuses on heat exchangers, environmental heat sources, and efficient energy conversion chains, as well as the use of renewable energies for heating and cooling.
Henning completed his doctorate in Physics in 1993 at the Carl von Ossietzky University of Oldenburg; since 1994 he has been at the Fraunhofer Institute for Solar Energy Systems ISE in Freiburg. Since 2005 he has been a section head and later head of the ISE's Thermal Systems and Building Energy Technology section. He has also been a deputy institute head of the ISE since 2009. Most recently, Henning has also held a professorship of technical energy systems at the Mechanical Engineering Faculty of the Karlsruhe Institute of Technology (KIT). He has been the spokesman for the Fraunhofer Energy Alliance since December 2016.