Senate elects part-time Vice-Presidents
Daniela Kleinschmit will be responsible for Internationalization and Sustainability, Sylvia Paletschek for University culture
Freiburg, Feb 24, 2021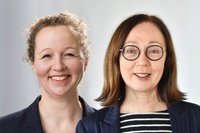 Daniela Kleinschmit and Sylvia Paletschek. Fotos: Jürgen Gocke and Thomas Kunz
The University of Freiburg Senate has voted in two new, part-time Vice-Presidents. The environmental social scientist Professor Daniela Kleinschmit will join the Rectorate to take on the issues of internationalization and sustainability, while the historian Professor Sylvia Paletschek will be responsible for the topic of university culture. Their terms of office start on April 1, 2021, and will run for three years. "With the portfolios of the two part-time Vice-Presidents, the University of Freiburg is setting important priorities that we will strengthen and expand in the coming years," says the Rector, Professor Kerstin Krieglstein. "We have gained two outstanding colleagues for this task who will give us new and original impetus for the further strategic development of our university."
Daniela Kleinschmit has been a Professor of Forest and Environmental Policy since 2014 at the Faculty of Environment and Natural Resources at the University of Freiburg. She conducts research on national and international forestry policy, for example on illegal logging, as well as on issues of policy integration, for example the integration of environmental goals into the bioeconomy, an economic form based on renewable raw materials. As a Vice-President, she has set herself the goal of bringing together the University of Freiburg's many activities in the field of sustainability to create a clear profile; "A common understanding of sustainability developed through dialogue is elementary. And it represents the basis for the university's further progress toward sustainability." She also plans to strategically adjust the goals of internationalization and Freiburg's international appeal further strengthened.
Sylvia Paletschek has been a professor of 19th and 20th century history at the University of Freiburg's Humanities Faculty since 2001. Her research interests include university history, history of science and the humanities, women's and gender history, and historical culture. As a Vice-President, she will be responsible for gender, diversity, and inclusion, for career management – here in particular for early career researchers – and for mission statement development. Above all, she would like to integrally link academic career management with gender, diversity, and equal opportunities; "I would like to take the concepts that exist for these fields more directly into the faculties, discuss them, develop them further and initiate a process of reflection on university culture and faculty structures," she says. Another field of activity will be the development of a new university mission statement in a participatory process.
The new part-time Vice-Presidents succeed Professor Gisela Riescher, Vice-President of Research Integrity, Gender and Diversity since 2014, and Professor Gerhard Schneider, Vice-​President for Digital Transformation since 2018. When Gisela Riescher took office, the University of Freiburg was the first university in Germany to establish such a senior position specifically responsible for Research Integrity. In this area, whose new connection in the Rectorate will be decided by the newly appointed committee, emphasis has been given above all to prevention, in addition to the thorough examination of suspected cases of academic misconduct. With the topic of equality and diversity, which will in future be within the purview of the Vice-Presidency for University Culture, the university, under Riescher's leadership, has further strengthened its image as an organization in which the individual and cultural differences of all its members are valued and seen as enriching. As a Vice-President, Gerhard Schneider has continued to promote important future topics such as research data management and digital learning environments at the university. The ongoing digital transformation of research, teaching, studies and administration will be treated as a cross-sectional task across the various departments in the future Rectorate.
Further information