Daniel Leese receives Fellowship from Carl Friedrich von Siemens foundation
Freiburg Sinologist researches the history of the Chinese Communist Party
Freiburg, Mar 07, 2022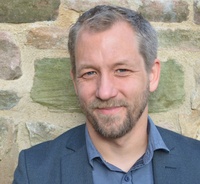 Daniel Leese. Photo: private
Prof. Dr. Daniel Leese, Professor of History and Politics of Modern China, who teaches at the Institute of Sinology of the University of Freiburg, has been awarded the Carl Friedrich von Siemens Fellowship for the 2022/2023 academic year. Each year, the foundation awards funding to two outstanding scientists. Fellows are released from all university duties for up to twelve months in order for them to be able to dedicate themselves to academic work in Munich over this period.
In his last book "Maos langer Schatten" (Mao's Long Shadow), Leese describes how China has dealt with state crimes that took place under the dictatorship of Mao Zedong. The International Convention of Asia Scholars chose the book as the best German language publication on the subject of Asia for 2019/2020. It has also been shortlisted for the German Non-Fiction Award 2021. In the course of his research Leese additionally compiled an extensive digital database with documents and images that show how "historical justice" was understood and enacted back then.
During his Fellowship Leese wants to pick up on his previous research work and realize two projects: firstly, a dual biography of Chiang Kai-shek and Mao Zedong, the most influential figures in Chinese history of the 20th century. "Drawing on extensive archival research I want to shed light on the respective political choices, societal visions and interactions between the individuals," he outlines. For his second project, Leese wants to expand his research into the history of information systems in the former People's Republic of China, "I am interested in what the leadership of the Communist party knew in detail back then about national and international events. This also pertains to the question of whether information quality was impacted by systemic weaknesses especially in moments of crisis."
Leese studied Modern and Contemporary History, Sinology and Economics in Marburg, Beijing (China), and Munich. He gained his PhD in International History in 2006. Since 2012 he has worked at the University of Freiburg. In the 2018/19 academic year he was a Fellow at FRIAS, the Freiburg Institute for Advanced Studies.
About the Carl Friedrich von Siemens foundation
The Carl Friedrich von Siemens foundation is an independent institution that funds the sciences. It runs a wide-ranging program of academic events at its headquarters in Nymphenburg, awards Fellowships to outstanding academics and supports university and research libraries in Germany to procure urgently-needed scientific literature. Leese is now the fourth Freiburg Fellow of the Carl Friedrich von Siemens foundation. The foundation has provided the University of Freiburg's library with 1,550,000 euros over the past four years.