Paperless and Customized
Many academic departments see the advantages of e-exams
Freiburg, Apr 21, 2020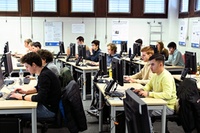 Photo: Thomas Kunz
Editor's note: The e-exam presented in this article was held at the beginning of March 2020, before social distancing regulations were implemented in response to the coronavirus pandemic.

The University of Freiburg has already been holding electronic examinations (e-exams) for eight years. A recent e-exam was administered to 281 Computer Science Department students in a single day. This type of test is custom tailored to simulate closely the students' future work environment. Yet paperless exams have also established themselves in other subjects as well.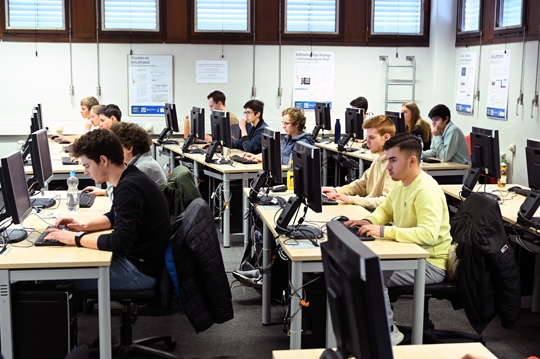 Computer Sciences' students agree that electronic examinations are much more like their learning and future work environments than written tests.
Photo: Thomas Kunz
One afternoon at the beginning of March 2020, a group of nervous first semester students gathered in front of the University of Freiburg's IT Services (RZ) building. They were about to take a computer science test to check their knowledge of the introduction to programming with "Python." During the exam, the students were required to write codes in this language themselves.
There were 281 students to be tested in all. Two groups sat the exam one after the other at computer work stations in the RZ, Collegiate Building II, and the Faculty of Engineering. When the first group finished and left the RZ, the second group was allowed in. Exam monitors supervised the students to make sure no information was shared during the changeover. "There's a certain potential for cheating, just like exams on paper. There always is," said Sven Slotosch with a smile. He is concentrating on administering e-exams in the RZ's Department of e-Learning. Once all the students were in position and logged-in on a computer via their university account, they were focused and the exam began.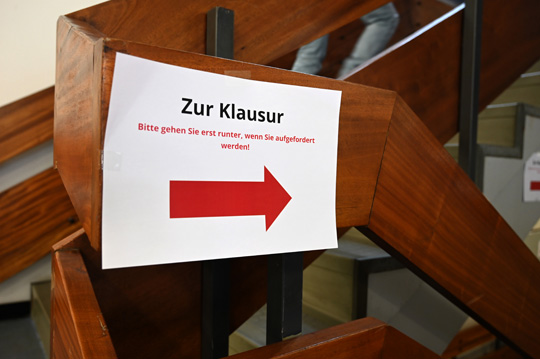 The 281 students taking the test were divided into groups who then took the exam at computer work stations, one group after another. Photo: Thomas Kunz
A flexible, electronic work environment

Testing such a large group of people is anything but simple logistically. Slotosch was pleased that everything ran smoothly: "Especially because we had to improvise on the fly when the planned work stations in one of the PC work areas turned out to be unavailable after all."
That everything unfolded without a glitch was down to the "bwLehrpool" system, a flexible, electronic work environment that was developed together by the University of Freiburg and Offenburg University. Thanks to this system, the computers could rapidly be switched from normal computing to testing mode. Once that was done, only the documents and websites required for the exam could be called up. Access to external storage devices or search engines remained blocked. Afterwards, returning the computers to normal could be done conveniently and without any loss of time.
Training tailor-made for work
Professor Dr. Peter Thiemann of the Department of Computer Science (INF)  was holding the exam that day. He explained, "I looked for a modern and future-oriented means of testing learning objectives in my subject for quite some time." He went on to say that learning programming techniques is key subject content in information technology. "Using the classic form of written examination therefore doesn't actually make much sense," he added.
"The goal is to train students practically for their work environment. They should be required to perform programming tasks on the computer," said Thiemann. To achieve this, lectures are already held that incorporate exercises involving working on the computer. "That we are now also able to test learning objectives on the computer is just super," said the professor, who developed the e-exam working in close cooperation with the RZ. He added that his ideas were very well implemented in the test.
The exam gives students an opportunity to validate their solutions experimentally. That means they're allowed to run the programs they've written. They're also allowed to use all the techniques that the respective programming language offers, such as aids to find errors. Said Thiemann, "That's a process that is closely related to the students' future work environment." He continued that there are even advantages when it comes to marking the tests: "There aren't any more problems deciphering handwriting and the objectivity of grading is enhanced as a whole." What is more, he said, it saves paper and publishing the results and allowing access to graded exams are simplified for everyone involved. "Even the feedback is very good. I'll continue doing this in future and expand it even more," said Thiemann.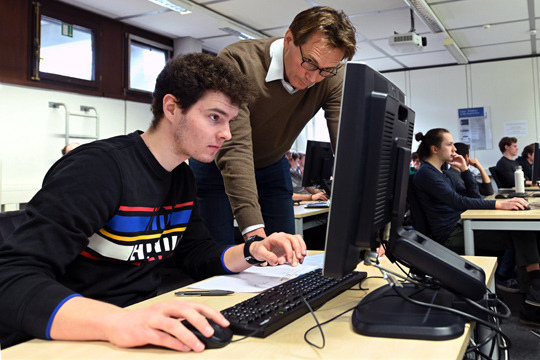 Peter Thiemann developed the test in cooperation with the University of Freiburg RZ and is satisfied that his concepts have been implemented well. Photo: Thomas Kunz
Maxim Kümmerle and Lars Gintermann just completed the test. The two microsystems engineering students were chatting in front of the RZ. They both agreed: "The level of tasks we were asked to perform was relatively high." The exam format – taking it on a computer – they viewed as a given. A prospective IT specialist, Christina Davril, concurred, "But of course, I'm just in my first semester, so I'm not familiar with the written exams from earlier." She added that she couldn't really imagine writing codes out by hand, "The computer is much closer to what's done in the real world."
Intensive preparation and faster follow-up
"We've been offering electronic examinations since 2012," said Sven Slotosch. The trained communications specialist continued, "I think that the first one was in English language and literature. In the meantime, many other subject areas, such as dentistry, forestry, or media cultural studies, for example, are making intensive use of e-exams. An electronic exam must be prepared well, including in terms of the kinds of questions." He added, That saves time – he  estimated about 95 percent – when it comes to post-exam follow-up."
"Another plus is that you can incorporate audiovisual material," said Slotosch. He continued: "They can put in a film clip for media studies that can then be analyzed. Sure, you could do it with a projector, but on a computer, every student taking the exam can look at the clip as many times as they'd like. E-exams can be customized to individuals very well."
The questions can be put on each computer in randomized order, added Slotosch. He was referring to the ingenuity of students who try to complete exams by relying on more than what they themselves have learned. "Having a glance at what the person at the next desk is answering on 'question three' really  isn't such a great idea anymore," he said with the wink of an eye.
Mathias Heybrock