Log in at "Day of Digital Teaching"
Members of the University of Freiburg community discuss the impact digitalization is having on university education
Freiburg, Nov 17, 2020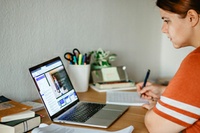 On 24 November 2020, the University of Freiburg is addressing topics related to digitalization at an event called "Focusing on Teaching and Learning: Day of Digital Teaching." The spotlight will be on the strategy published in the summer, key skills and proficiencies that will become relevant in the next five years, as well as curriculum development. Students, instructors, and staff involved in studying and teaching at the University of Freiburg and its partner institutions are invited to attend.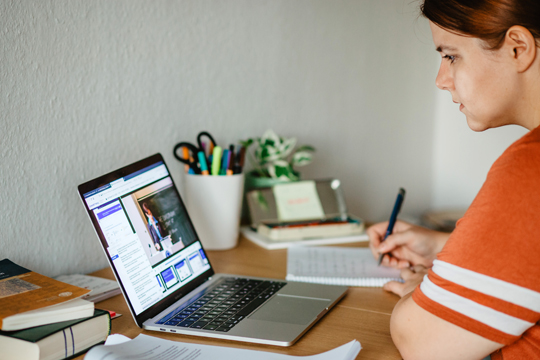 In the next five years, "Future Skills" such as evaluating data and sources, proper handling of licenses and copyrights, and protecting privacy, will become increasingly important for the world of work. Photo: Sandra Meyndt 
Superlatives often disappoint. That's not the case, however, with the concept of digital transformation. Developments are progressing apace in the digital world. They've changed all aspects of life – even the way people work, teach, and learn. As it continues, digital transformation demands new types of learning and teaching, as well as course content. The University of Freiburg has long had these adaptations on its agenda. Even when daily campus life was still dominated by classroom lectures, discussions in seminar rooms, and study groups in the University Library, the university had already implemented many digital aids and innovative teaching formats. It also made initial offerings to develop digital skills. Then along came the coronavirus, with necessity driving an even more rapid transition. Within several weeks, the university had reset itself for a digital summer semester.
Presenting goals
The upcoming "Day of Digital Teaching" in November reflects this blend of long-planned and rapidly implemented strategies. The program includes items that had been in the works for several years that gained immediacy and momentum with the coming of the corona pandemic. One is, for example, The Strategy for the Digitalization of Teaching, which was published in the summer of 2020Among the plans presented in the document are flexible study formats designed to meet the diverse needs of students, international online study, ambassadors within the academic faculties, and a "House of Teaching and Learning" ("Haus des Lehrens und Lernens") that would integrate all resources and expertise under one roof. The aims of the strategy will be introduced in a keynote speech on 24 November. What is more, experts from Berlin and Ulm will provide added stimuli regarding digitalization in university education.
Skills for the future
An additional event focus will be what are known as "Future Skills." They're a topic that the "Stifterverband" – an organization dedicated to promoting research and higher education – and the European Commission have been emphasizing for several years. As the world becomes increasingly digital in the coming five years, "Future Skills" are competences and proficiencies that will probably become particularly relevant at work and for participation in society. These skills have yet to gain broad traction in Germany. Among the abilities are, for example "Data Literacy," meaning the competent and critical presentation of data that are primarily obtained through research with digital means.
Together with Berlin's Humboldt University, Freiburg's Center for Key Qualifications (ZfS) administered a survey to students to assess the level of Future Skills among those at the University of Freiburg. "First we'd like to ask about the status quo and understand how the students themselves rate their digital skills – to discover what they feel they know well, and which abilities need more development," explains ZfS Director Verena Saller. The survey covers a broad range of skills. It asks if the students feel they have solid abilities to evaluate data and the sources they're using for research. Are they able to configure or change their devices' security settings? Which digital tools can they access, let's say for example, in order to work simultaneously with a group on a single document? Do they know if they are dealing with licenses and copyrights correctly?
The survey had 630 Freiburg students taking part. Saller says, "That's a good beginning and a good opportunity to start speaking to each other." She says it is important to compare and contrast the students' self-assessment of their skills with how experts evaluate them. First, the results will be presented and discussed with teachers and students in a workshop. In the coming years, the ZfS will incorporate new course offerings on Future Skills in its curriculum. "The faculties certainly will be able to benefit from our preliminary work," says Saller.
Syllabuses for Europe
Another emphasis is curriculum development, forming as it does the basis for courses of study. The central question here, too, is which proficiencies and knowledge students will require for their prospective careers. The head of the University of Freiburg's Center for Teaching and Learning (HDZ), Silke Weiß, reports, "It's also about learning how we can plan and ensure that a course of study promotes just these skills and which formats can be used to test that." Working with her colleagues from the Department of Quality Management in Academic Affairs, Weiß regularly provides advice to the faculties and institutes on this topic. During a workshop with Dorthe Hutz-Nierhoff of the E-Learning Service Center of IT Services (RZ), she would like to give teachers tips on curriculum development that will help them, among other things, to tailor syllabuses to digital formats.
Weiß emphasizes that demand extends far beyond what's been generated by the coronavirus pandemic. "Digitalization opens new opportunities for "blended-learning formats" or for purely virtual courses that pave the way for studying beyond national frontiers," she says. Projects such as EPICUR , for example, are decisive, she adds. The "European Partnership for an Innovative Campus: Unifying Regions (EPICUR)" has as its aim the creation of a common, digital campus that includes eight universities located in Germany, Greece, Poland, Austria, France, and the Netherlands. Another workshop will be dedicated to the question of opportunities and barriers that will arise as teaching and learning becomes more internationalized.
Rimma Gerenstein
Registration for the "Day of Digital Teaching"