Eye-level Encounters
Personal insights on mentoring to mark the 10th year of the MentoMed II programme
Freiburg, Sep 20, 2023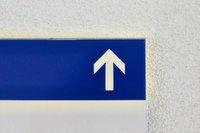 This year the MentoMed II mentoring programme of the University of Freiburg's Faculty of Medicine celebrates a decade since it began. The programme gives medical students in the second half of their course of study the opportunity to join in exchanges with experienced doctors. The mentoring groups stay together for one year as a rule. During the Winter Semester of 2023/24 72 mentors and 109 mentees are taking part in the MentoMed II programme – in tandems as well as groups with two to three mentees.
Verena Krall spoke to two former participants to gain personal insight into experiences with the programme. Professor Dr Georg Mols is the Head Senior Consultant for Anaesthesiology and Intensive Medicine at the Ortenau-Klinikum in Lahr and Luc Wiesmüller is studying medicine in his eighth semester. The two completed a mentoring tandem during the summer semester of 2023.
How did you become aware of the mentoring programme?
Luc Wiesmüller: Last semester I received an E-mail at my university address advertising the programme. I was simply curious, so I got in touch with them. Then I had to fill out a questionnaire about my wishes regarding mentoring, which specialisation would interest me, and in which stage of their career the mentor should be. In terms of mentoring, it was important to get advice from the perspective of someone with several years of career experience. So I was very pleased about the tandem with Georg Mols, a head senior consultant for anaesthesiology. He's working in the specialisation that is of great interest to me right now.
Professor Dr Georg Mols: I received the request as part of a group email, and I responded right away when I got it. Through a range of career stages, I have had twenty years of experience at the Freiburg University Medical Centre. The last position I held there was as head senior physician. As a result, I feel a close bond with the University of Freiburg. As a senior physician, and really as head senior physician, you furthermore support young colleagues repeatedly – in some cases even after they've transferred to another hospital. I've always experienced this personal support as very rewarding, which is why I enjoyed taking part in the mentoring programme. Luc Wiesmüller was my first mentee.
And how did the registration continue?
Wiesmüller: First there was a big meeting with all the new mentors and mentees at which the MentoMed II Programme was introduced and where you got to know your partner. It was nice to see that many of the doctors apparently already knew each other. You noticed that here was a dedicated, well-networked community that was getting involved in the education of young doctors. It was impressive for me to see that so many practicing doctors were taking on extramural education of students, and that they viewed this as very valuable.
Mols: At our first, one-to-one meeting we discussed Mr Wiesmüller's key questions and where the real pressing issues were, particularly regarding his continuing path through his studies and on into a career. After all, that's different for every individual.
What were your expectations as you approached the programme? And were these fulfilled?
Mols: My expectations were met, actually. When I heard which semester Mr Wiesmüller was in, I could already pretty much prepare myself for the questions. One big issue was, for example, how he could find a doctoral position that would be useful for him. Besides, it was important to me to provide insights into daily life as a doctor because towards the end of medical school, actual professional life becomes increasingly interesting.
Wiesmüller: At the start, I really didn't have much of an idea of what mentoring would be like. What really surprised me was that we often spoke in very real terms about what the next steps could be. What could I try out? Where would it be worth it to persist and see it through? A lot happened to me during the year, especially because I started doctoral work alongside my studies. The food for thought given me by Dr Mols during our meetings were very valuable then. And with respect to a career in medicine, it was also good for me to see there was time left at all for engagement such as mentoring – that was motivating in any case.
Looking back, would you recommend taking part in the MentoMed II Programme to other doctors or medical students?
Wiesmüller: Yes, I'd actually recommend it without reservation to all my colleagues. I think the networking and sharing across generations is extremely valuable. It's the first time you perceive at all how problems are recognized from different points of view, and you develop an understanding for each other. Of course, it can happen the tandem partners don't suit each other at all. Then I think it's completely legitimate to say you can break off the mentoring after one or two meetings.
Mols: Exactly, you simply don't have anything to lose. Exchanges like this are also very rewarding from the viewpoint of a mentor. Every generation has different ideas of how they want to live and work. I think it's interesting to get a look early on at the new classes of students each year. Meeting personally helps to get rid of preconceived notions that sometimes come up. I see it as a task for experienced doctors to remind themselves repeatedly, "It isn't the case that the younger ones do a worse job on everything." A conversation is especially good for successfully breaking up such thought patterns.
Wiesmüller: It was, by the way, particularly helpful to gain insights at a hospital that actually isn't a university teaching hospital. Generally speaking, this perspective is missing in medical school, and the hospitals in the vicinity of Freiburg often offer a very broad range of treatments. That's a reason for encouragement directed particularly at doctors outside of the University Medical Centre to take the time and join in the mentoring programme.
How will your tandem continue? Have you agreed to keep meeting?
Mols: In any case, I've offered to continue to be available to speak as needed. During my professional life, I often would've liked to have had the advice of someone with more experience than I. Your own colleagues are just as good in terms of possible people to speak to, but sometimes you might explicitly want to talk to someone with a perspective from outside.
Wiesmüller: While being mentored, I noticed that sharing on a meta-plane is really valuable. That's why I'm very happy about this offer and see the contact as a worthwhile resource.
Interview: Verena Krall
The state of Baden-Württemberg supports MentoMed through the Higher Education Financing Agreement 2 (HoFV II), Special Section: Instruction.
For more information about MentoMed: 
Agnes Bruckner, Mentoring Coordinator at the Academic Dean's Office of the Faculty of Medicine of the Freiburg University Medical Centre
agnes.bruckner@uniklinik-freiburg.de