One Virus, Many Small Waves
The infectious disease expert Winfried Kern doesn't expect the pandemic to end anytime soon and that there will continue to be localized outbreaks of Covid-19
Freiburg, Apr 16, 2020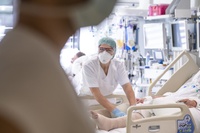 Photo: Universitätsklinik Freiburg
The Freiburg University Medical Center is currently treating 80 to 100 patients suffering from Covid-19. Although Professor Dr. Winfried Kern, Medical Director of Infectious Diseases at the Department of Medicine II, doesn't expect these numbers to drastically increase, he also doesn't believe that the pandemic will be over anytime soon. In an interview with Jürgen Schickinger, Kern talked about the current situation at the hospital, the treatments, the obstacles, the personal risks, and the challenges facing society. He also explained what a certain Protestant congregation had to do with the number of cases in southern Baden.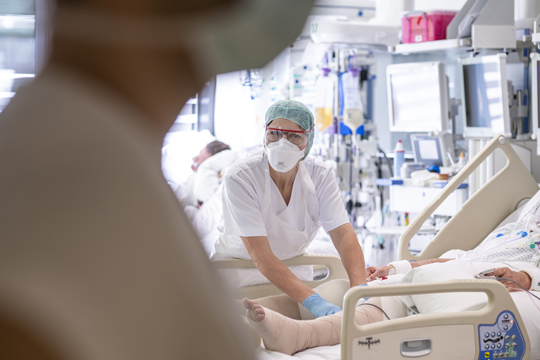 Medical staff at the Freiburg University Medical Center are currently treating 80 to 100 patients who have Covid-19. Photo: Freiburg University Medical Center


Prof. Dr. Kern, what is the current situation and mood like at the University Medical Center?
Winfried Kern: The mood is what you'd expect under the circumstances. We're optimistic, but we've also had more than 20 deaths due to Covid-19. That puts a strain on everyone. However, we have to put these cases into context. Many of those patients were very old, meaning that any kind of complication – for example, because of the flu – would unfortunately also have been fatal. Be that as it may, every time someone dies, it takes a toll on us.
Are you starting to run out of regular and ICU beds?
No. Both our normal wards and intensive care units have prepared for the pandemic down to the minutest detail and have expanded the number of beds and amount of necessary equipment. Not all the beds are occupied, which is why we were able to take in several patients from Alsace and would do so again if we were asked. Or we would check with Karlsruhe first; they have even more beds available.
Does the situation in Baden-Württemberg vary depending on where you are?
Yes. There's not much going on in northern Baden, in the Karlsruhe area. At the other end of the scale is Hohenlohe county, which is one of the hotspots in Baden-Württemberg. Something must have happened there, a large event maybe, that caused SARS-CoV-2 to spread so much. It can't be just because of the people coming home from ski vacations. Another hotspot is our own area, right here. That's because of the steady stream of commuters from Alsace and an event in Mulhouse. In February, 2,000 members of a Protestant church met for several days, and a very high number people there got infected with SARS-CoV-2. After that, commuters spread the virus to northern Switzerland and southern Baden.
What kind of treatment is being given to people with Covid-19?
We're currently treating 80 to 100 Covid-19 patients. Most of them are not given a specific antiviral therapy. Instead, they receive general treatment to alleviate their symptoms. They're usually given drugs to treat pain, inflammation, and fever, and if they have a serious cough, they might be given an antitussive, which is a cough suppressant. We only need specific treatment for very sick patients, which make up about 30-40% of all the Covid-19 patients in our hospital.
Do you know which patients are more likely to become severely ill?
No, we only have theories. The viral load theory is the most frequently mentioned, and it makes sense. SARS-CoV-2 can attack the lung tissue. Accordingly to the viral load theory, the risk of developing a more serious form of the illness increases when people inhale a high concentration of the virus deep into their lungs. This is believed to lead to a greater infection of the lungs, where it does widespread damage all at once. This means you should definitely take cover whenever someone near you coughs. An infected person is especially capable of hitting you with a huge viral load if they cough in your face. That's probably dangerous for anyone. Evidence supporting the viral load theory is the deaths of young doctors who were not wearing personal protection equipment when treating patients with Covid-19 who had not been tested. These doctors were perfectly normal, healthy people around 30 years old with no preexisting conditions.
And what about people with cardiovascular diseases who have a higher risk of dying but not of becoming severely ill?
Actually, they have a higher risk of both. Patients with cardiovascular disease have less lung reserve than healthy people. Their system is more fragile and fails more rapidly. This is the case not only for SARS-CoV-2 infections; cardiovascular patients are also at greater risk when they get the flu.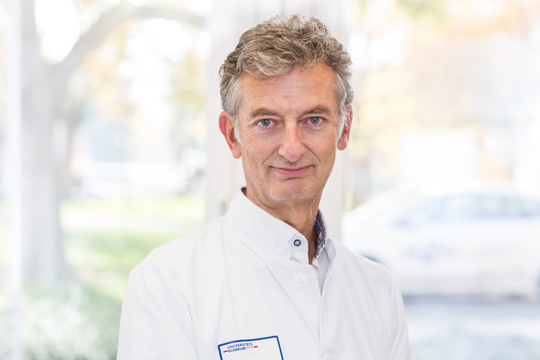 "What's important now is solidarity and a willingness to cooperate," says Winfried Kern. He's calling on people to help out in some way and for better teamwork between institutions. Photo: Freiburg University Medical Center


Are you treating severe cases with drugs for malaria or Ebola, for example?
Yes, we are. We also applied to take part in the SOLIDARITY trial being conducted by the World Health Organization (WHO). It's a project to bring together all the data collected by medical experts from all over the world regarding various drugs. The WHO wants to create a foundation of data to be able to determine whether drug A works better than drug B, and whether drug B is virtually the same as a purely symptomatic therapy.
Do you have any favorites regarding these drugs?
We would like to give our patients remdesivir, but this drug, which was developed to treat viruses like Ebola, hasn't been approved yet. It is available only for "compassionate use." This means, it can be used only for severely ill patients who are not responding adequately to approved drugs. The manufacturers of remdesivir are involved in determining the criteria for usage, meaning we have to make a special request with them to get it. The patients we make the request for are supposed to be severely ill, but not too severe. If they're in intensive care and are already being treated with cardiovascular drugs, then they can't get it. We also use the malaria drug hydroxychloroquine. According to our experience, both of these drugs seem to be beneficial and pose only minor risks. In certain cases, other treatments work better, and we're continuing to work on other approaches.
Could you name an example?
One example is tocilizumab, which is an antibody used as an inhibitor of the signaling molecule interleukin 6. This antibody can be useful when there's a danger of an extreme overreaction of the patient's immune system leading to respiratory failure. We're also planning to collaborate with the Ulm University Medical Center on a treatment using convalescent plasma. For this therapy, patients who have fully recovered from Covid-19 donate their plasma, which contains SARS-CoV-2 antibodies. The idea is that a transfusion of these antibodies could help severely ill Covid-19 patients fight off the disease better.
There are many different opinions regarding how the pandemic will continue.
That's true. I believe there won't be a wave that's as extreme as they previously predicted. Those forecasts were based on data from Italy from four weeks ago. The situation has changed because of the actions that have been taken since then, such as social distancing. This means that the basic assumptions for these models are no longer correct. On the other hand, there's a lot of disagreement among scientists. My impression is that the pandemic has slowed down considerably here [in Germany]. Instead of one big wave, I'm afraid we're going to have lots of smaller ones – for example, localized outbreaks in nursing homes, hospitals, and similar places.
Is the University Medical Center prepared for the pandemic to continue for a long time?
We're very well prepared, but the pandemic is still a challenge for all of us. What's important now is solidarity and a willingness to cooperate. Everyone can do something to help. Students who currently have time could help senior citizens by installing and setting up video chat software – naturally while observing safety recommendations – to help seniors communicate better with their loved ones. There are many ways people can help. For our part, we can work on our partnerships: Hospitals could collaborate more with each other and with the public health authorities, and Germany could collaborate more with France.
When do you think we'll be able to get back to a halfway normal life?
I think it will take about a year before we get a handle on the Covid-19 crisis from a medical point of view – so by winter, at the earliest. Over the summer, the number of new infections will probably drop, because people will spend less time together indoors. At that time, restrictions will probably be relaxed. Then, when winter comes, the cold and flu season will start up again. SARS-CoV-2 will spread more rapidly through coughing and sneezing, and there won't be a mass-produced vaccine by then. I think that's when the University Medical Center will have to treat more patients again. We might have a more or less normal summer in 2021.