Honorary senator and patron Horst Weitzmann
Entrepreneur and longtime chairman of the University board celebrates his 80th birthday
Freiburg, Jul 15, 2021
As a benefactor, supporter and longstanding chairman of the University Council, he is closely associated with the University of Freiburg: Horst Weitzmann - a graduate in mechanical and industrial engineering who took over the Badische Stahlwerke in Kehl with a business partner in 1983 and brought it to new prosperity – celebrated his 80th birthday with his family in June. A gift of a very different kind still awaits the University of Freiburg honorary senator. In August, he will sail around the island of Corsica with his wife Marlis, their three adult daughters and their partners, and eleven grandchildren. Anita Rüffer looks back on his life and his ties with the University of Freiburg in an interview with Horst Weitzmann.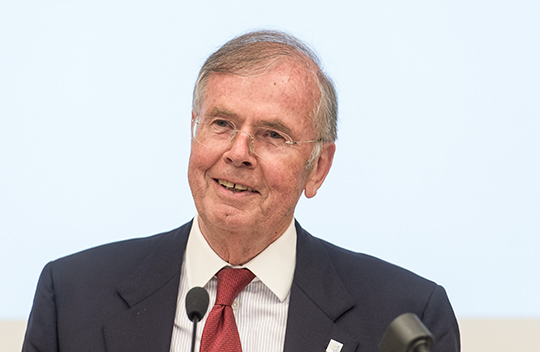 With the Neue Universitätsstiftung, Horst Weitzmann wants to give the most talented researchers at the University of Freiburg the freedom to develop their potential. Photo: Patrick Seeger
Mr. Weitzmann, you were born in 1941 in the town of Riesa on the River Elbe, a place known for its steel industry. One could say that you were born close to steel.
Horst Weitzmann: Actually, I would have liked to have studied medicine. But it all turned out differently. I was born in Riesa because my father worked for an arms manufacturer there. My parents are from Reutlingen. We returned there after the war with everything in a handcart. There was no steel entrepreneur as yet.
In you, then, we meet a man of Württemberg who became an ardent advocate of Baden interests. For example, in the battle for a Faculty of Applied Sciences in Freiburg. 
As first the deputy, then from 1989 to 1993 president of the Freiburg Chamber of Commerce and Industry, my heart beat for the many hidden champions in the Black Forest valleys. Among them were small companies yet leaders in their sector for whom the university could basically do nothing. They had nothing to do with religion, philosophy or medicine. They needed experts in computer science, microsystems technology and robotics. Together with Georg Endress from the Business Association of Industrial Companies and the then Rhodia CEO Klaus Mangold, I campaigned for a Faculty of Engineering and collected money for an endowed professorship. This was approved by the Rectorate at the time, which regretted having so few contacts with industry up to that point.
But you were not just thinking about the university - you were also a defender of the dual training system.
Not everyone can go to university. Society needs not only academics, but also well-trained tradesmen, businesspeople and technicians. That's why we started awarding prizes for outstanding apprenticeships and giving honorary awards, thereby enhancing the value of dual training. In my own company, too, the education of all employees is a top priority.
Is this how your "foundation career" began, culminating in 2007 on the university's 550th anniversary in the establishment of the Neue Universitätsstiftung (NUS), which you still head today and to which you and your wife Marlis have contributed one million euros from your personal assets?
In the course of my life, there have been many coincidences and encounters that have taken me further – not in the sense of systematic career planning. I have always used these contacts to raise money for important projects. For example, as chairman of the board of the cultural foundation running the Festspielhaus in Baden-Baden, which was to become a rescue project for the city. The NUS and its trust foundations seek to give the university's most talented researchers the freedom to develop their potential.
You have even entered the university's operational business and you offer a course with excursions at the Institut für Allgemeine Wirtschaftsforschung, allowing students to get in touch with businesspeople and experience their life.
When I was appointed an honorary professor in 2012, in addition to all the honors, I also wanted to give back something concrete in return. My connection with the Faculty of Economics and Behavioral Sciences is that, as chairman of the high-profile Baden-Baden entrepreneurial talks, I succeeded in acquiring the Wilfried Guth Endowed Professorship.
From 2003 to 2011, you were chairman of the university council. You worked with several rectors, helped pave the way for personnel decisions, and supported the Excellence Initiative. Didn't all that become too much for you sometimes?
I always enjoyed doing that. It was also a refreshing change of scenery for me.
What can a university learn from a man in business?
To me, the university always felt like part of a large government agency. I tried to bring a little of the spirit of a company into this entity – making decisions, taking responsibility, working with budgets, building a strong administration.
Do you think the university is on the right track with its new leadership?
Absolutely. I know the new Rector, Professor Kerstin Krieglstein, as an assertive person who solved one problem after another during her time as Dean of the Faculty of Medicine. The transition has been impeccable.