Here's the way!
The online platform "Sorgen-Tagebuch" ("Worry Diary") helps people deal with their problems and mental disorders
Freiburg, Nov 16, 2017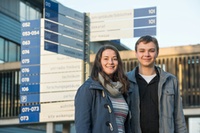 Photo: Klaus Polkowski
To get something off your chest can be a relief. But what happens if there is no one around who will listen or your shame is too great to share it with a friend? To address these issues, students at the University of Freiburg have developed a Worry Diary: people can write their thoughts anonymously on the online platform and receive a response from a trained staff member.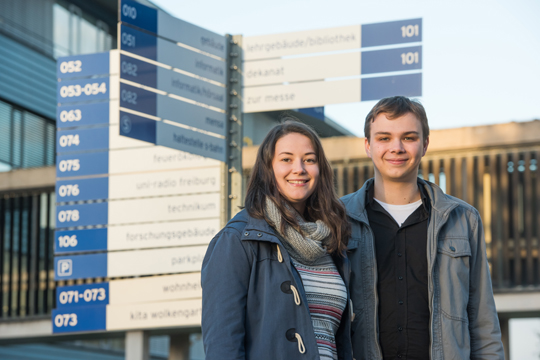 Showing the way: More than 5,000 users have registered for the Worry Diary that Elisabeth Rohde and Daniel Kemen co-developed.
Photo: Klaus Polkowski
It is Monday morning at 8 am. Stefan's alarm clock has gone off for the third time. He should actually be getting up for class, but Stefan would rather stay hidden beneath the covers. For weeks he has been overcome by a feeling of sadness. It's all just too much: his exams, the side job at the café and then that argument with his girlfriend Lisa the week before. Nonetheless, Stefan drags himself to university every morning even though he can't really follow his professor's explanations. In the evening his friend Erik calls up to ask if he wants to go to the bar around the corner. Stefan makes up an excuse as to why he can't go. He just wants to be left alone. He senses that something isn't quite right with him. He would love to talk with Erik about his feelings, but he can't find the courage to do so. What if Erik doesn't understand him?
It was exactly this type of situation about which Daniel Kemen, Elisabeth Rohde and Simon Gehri thought as they developed the Worry Diary in 2015. "We asked ourselves what you do when you have a problem but no friends with whom you can share it," explains Kemen. The three students realized a lot of people journal in order to ease their troubles. "In difficult times it is really helpful to have the feeling that someone is there to listen. But the disadvantage with a diary is that you get no response from it." The idea of the online diary quickly found its supporters: "Four days after the team had placed its first test version online, they already found 90 posts on the page. "It became very clear that there is a need for our offering and that we wouldn't be able to do it just on the side."
Help in a few clicks
In order to receive help, you only need a few clicks: The users have to register with a nickname and password. Thereafter they immediately see a virtual book on the screen that they can fill with content that no one other than they can read. They get to decide as to whether they wish to receive a response from the team or whether they wish to write only to themselves. "The posts address all kinds of topics, spanning from lovesickness to mental disorders," says Rohde. A lot of people who use the diary already have the sense that they are suffering from such a disorder, but they haven't found the courage to seek out a therapist. The Worry Diary cannot replace professional help, however. "Our offer is to show people a way to move forward. For instance, we let them know about various therapy treatments, self-help groups and other places to go for help," emphasizes Kemen.  
The prize for social engagement
The online platform now has between 250 and 300 posts per week with over 5,000 registered users. The three students are no longer able to manage that level of capacity themselves. In  2015 they founded the association "Worry Diary e.V." that employees 50 volunteers. They are from all over Germany, between the ages of 16 and 65 years old, are either students at university or high school and respond from home. Before they are allowed to work for the association, they have to prepare themselves for the task with tutorial videos and questions and write sample texts. A psychologically trained mentor accompanies the admission process and decides whether the applicants are suitable.
In 2016 the project won the Alumni Award for Social Engagement at the University of Freiburg. Kemen and Rohde are particularly thrilled about the positive feedback from so many users. "When we have so much to do because of the project and then get such feedback, we immediately feel a lot better," says Rohde with a smile. They want to fulfill their users' wish soon: a Worry Diary smartphone app to make it even easier to get help in the future.
The "Sorgen-Tagebuch" ("Worry Diary")
Sonja Seidel