A Stage for All
At the World Gymnaestrada, Freiburg sports students experienced the intercultural power of dance
Freiburg, Aug 21, 2019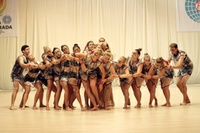 With 18,000 athletes from 69 nations, the Gymnaestrada is the world's largest celebration of gymnastics. At this year's event, the German Gymnastics Association selected a group of Freiburg sports students to give a performance.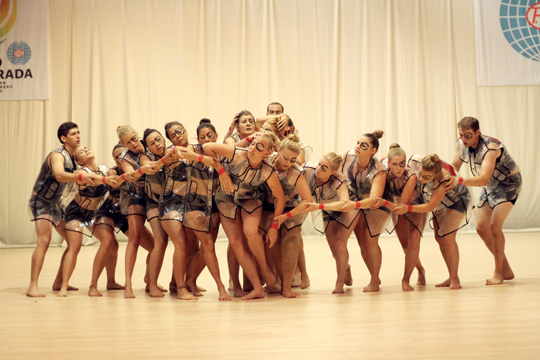 Socially critical performance: students took their inspiration from Dave Eggers' novel The Circle. Photo: Christina Plötze
Participation by the University of Freiburg's Gymnastics/Dance advanced course at the recent Gymnaestrada in Dornbirn, Austria, could also simply be described as an excursion for the Institute of Sports. However this would overlook the whole experience of the eight-day event. For Christina Plötze, unlike her students, the experience was not new. She not only teaches dance at the University of Freiburg, she is also the trainer for the Showteam Matrix, who, after their third appearance, feel quite at home at the world's largest gymnastics celebration.
The Gymnaestrada is organized every four years in a new location by a member of the International Gymnastics Federation. It may resemble the Olympics in its gymnastics, but not its character: the Gymnaestrada – the word was created to emphasize gymnastics, but also the stage – is not competitive but a massive meeting for this mass sport. A total of 18,000 athletes from 69 nations gathered by Lake Constance in July 2019 to demonstrate their choreography and performances and see those of other groups.
A Delegation from Germany
For Plötze, the Gymnaestrada is the best example of the community dance movement, which was founded by the choreographer Rudolf von Laban in the first half of the 20th Century. "Anyone can join in, it doesn't matter if you are old or deaf," says Plötze and explains that this year there was an especially large number of inclusive groups involved in the event. In Team Germany, apart from a team from Munich, the students from Freiburg were the only dancers from a university – and that was despite Germany with 2,000 gymnasts having the second-largest delegation after Switzerland.
The Freiburg students prepared for their show together with Plötze in small groups with different themes; since then they have also sat their final written examination. When you consider that food, accommodation, public transport, getting there and the festival pass all have to be paid for, seven days aren't exactly cheap. Some of this was paid for by the students themselves, some was funded by a donation from the Alumni Freiburg e.V. association. The Verband der Freunde der Universität Freiburg, Institute of Sports and Sport student council also helped.
Showing your colors
It is quite possible that the Freiburg students took the motto for this year 'Come together. Show your colours' more politically than it was meant by the International Gymnastics Federation. Christina Plötze and her students took their inspiration for their choreography from Dave Eggers' novel The Circle, about a totalitarian Internet company, which exerts social control over criticism and uses distraction techniques.
The real life experience of their participation included connecting with athletes from other countries: it didn't take long, Christina Plötze explains with a laugh, until t-shirts, shoes and jackets were being exchanged between the nations on their entry into the stadium. However, the experiences of diversity left with the participants by this year's Gymnaestrada should be more sustainable – for example that of Robin von Wirén, a Freiburg sports student, "It was an experience that showed me how important dance is in every culture, how important dance can be for people and not least how important dance is for me."
Annette Hoffmann