Seven Months and Seven Million Steps
Philipp and Philip packed their bags and set out on an adventure to the North Cape in Norway
Freiburg, Sep 12, 2017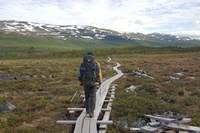 Photo: Philipp Weigel
On January 6, 2017, Philipp Weigel, a math and sports student from the University of Freiburg, set off on his greatest adventure yet. He and his friend Philip Kapitzke left Ulm to go on a 5,000 kilometer walk, which translates into more than seven million steps, to the far north. They braved the cold winter, slept in their tent when it was -10° Celsius, and put up with sore feet. Despite all the hardship, in the end, they were elated and proud to reach their goal. Philipp Weigel is now back in Freiburg. Jannis Behnke talked to him about what his life has been like since coming back.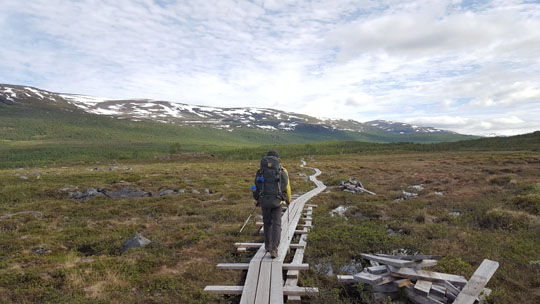 Staying on course: The walk from Ulm, Germany, to the North Cape in Norway is about 5,000 kilometers.
Photo: Philipp Weigel
Mr. Weigel, you walked almost 5,000 kilometers in seven months. How do you feel now that you're back, did you manage to avoid any injuries?

Philipp Weigel: I'm doing really well, I'm happy to be back. Our trip was great, but it was also very tough. When we started on our adventure, I had knee problems, but that got better after a while. By the time we got to the Harz region, I had no problems anymore. Then, when we were in Northern Germany, I got a lot of blisters: eight at the same time, on eight different toes. But that only happened once. We didn't run into any problems after we left Germany.

I'm sure you experienced so much on a trip like that. What was the most memorable moment for you?

Arriving at the northernmost point of the European continent, which technically is not the North Cape at all, but a point a little further north. We had bad weather when we arrived, and it took us a while to get used to the idea of being there, but it was a very special, emotional moment. Just realizing that you couldn't walk any further, even if you wanted to, and of course knowing that we'd made it and come all that way – that was a huge relief. It was an indescribable feeling.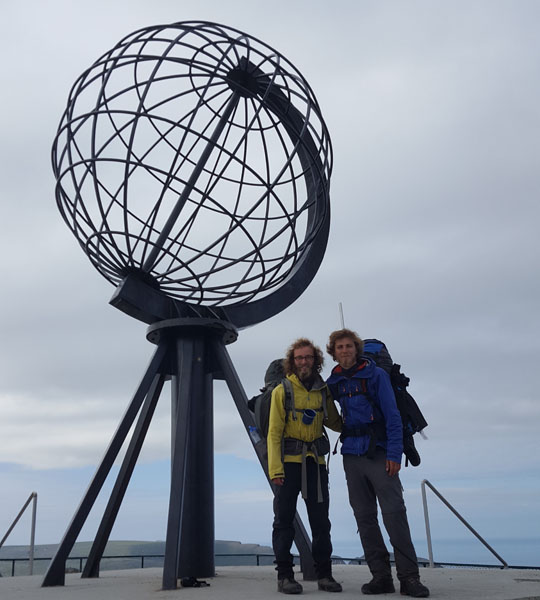 "We made it!" Philipp Weigel (right) and Philip Kapitzke arrive at the North Cape after seven months and seven million steps.
Photo: Philipp Weigel

What was the toughest thing you experienced on your trip?

It was definitely much tougher mentally than physically. We had to drive ourselves pretty hard in the beginning – it wasn't nice being out in the cold German winter. Another problem was loneliness. Not seeing anyone else for what seems like forever is harder than you think. And then you're constantly with the same person – you hardly have any privacy, and it's hard to get some me time. We were almost like a married couple.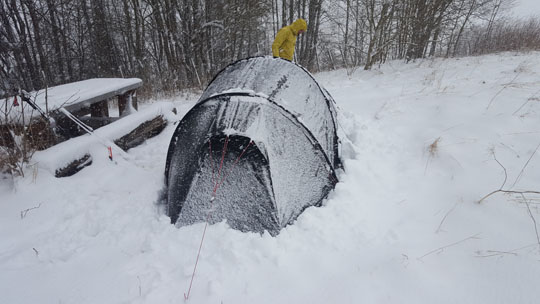 Snow and -10° Celsius: The cold winter was not Philipp Weigel's favorite part of the trip.
Photo: Philipp Weigel

What did you look forward to most when you got back, despite having privacy again?

Hugging my parents and sister and being with them and talking to them. I also missed Swabian food. But most of all, I missed my own bed and the shudders on my windows. It's also nice not to have to get up at 6:30 a.m. every day and walk 25 kilometers. That was almost like a job. Now that I'm back to my normal life, I feels a little like I'm on vacation.

Better enjoy that vacation feeling while you can! The winter semester begins in October. Will you be back in the classroom this semester?

Yes. I'm looking forward to the math lectures. I really missed that. The trip was not that intellectually challenging, you know. Otherwise, I hope to go on another long trip sometime in the break or after college. I've seen the North, so next time maybe I'll go south.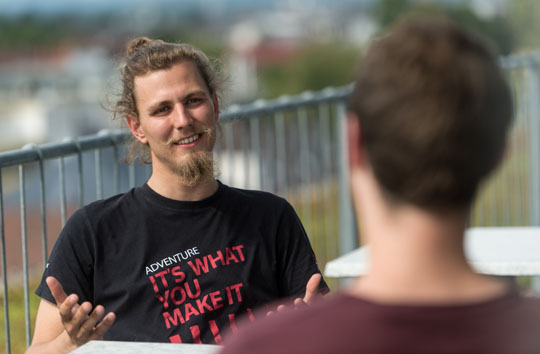 Philipp Weigel is looking forward to math lectures again this winter semester: "The trip was not that intellectually challenging."
Photo: Patrick Seeger