Saying what's what
As part of the 'Erzählte Erfahrung' series of talks on life experiences, European historian Wolfgang Reinhard talks about half a century as a researcher and professor
Freiburg, Feb 01, 2018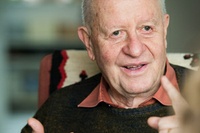 Photo: Klaus Polkowski
For his entire professional life – more than five decades – he has observed European history and never been at a loss for a critical word: the Freiburg historian Wolfgang Reinhard retired in 2002, but his passion for research still remains. In 2016 he published a highly praised work on 600 years of European expansion. On 8th February 2018, as part of the 'Erzählte Erfahrung' series of talks, Reinhard will recall his experiences as a researcher and professor. He has not lost any of his enthusiasm for debate.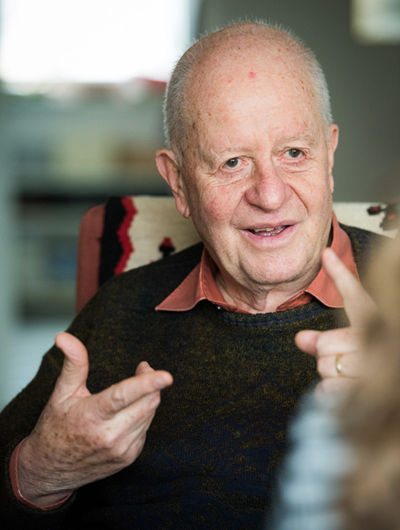 As a historian of Europe, Wolfgang Reinhard deals with long periods of time and broader connections. Photo: Klaus Polkowski
"Can we have an extra seminar on Saturday?" In 1990, when Wolfgang Reinhard had just moved from Augsburg to the University of Freiburg, he couldn't believe his ears. "That was a key moment," he recalls. "I had got used to students starting the weekend on Thursday." It was different in Freiburg, "On the Saturday, almost all the students turned up, and we debated like mad for four hours. It was a brave new world." After all, debate is the basic tool of a historian, and in Freiburg Reinhard encountered kindred spirits.
Born in 1937, Wolfgang Reinhard studied history, English studies and geography in Freiburg and Heidelberg, and later got his PhD in Freiburg; in 1973 he qualified here as a lecturer. In 1977 he took up a post at the University of Augsburg. After switching from Augsburg to his alma mater in South Baden, he eventually took up the chair of modern history, which he held until his retirement in 2002. Reinhard's great passion remains scholarship. A large part of his living room is taken up with history books. One text which can be found in the libraries of many other historians is Reinhard's book published in 2016 'Die Unterwerfung der Welt'. This wide-ranging study gives an overview of European expansion from 1415 to 2015 – a core theme of Reinhard's work, his lifework, you might say.
Strong media response
The media response to the almost 1,700 page long tome was enormous – and often made use of the words "standard work" and "compulsory reading". Nonetheless, Reinhard was a little amazed by this contemporary interest in the history of European expansion: when he had published a four volume study on the topic in the 1980s "people weren't exactly grabbed by it," he remembers. "In the 1970s and 1980s, tackling European history was seen by many as a refined form of suicide." Potential employers for example found occupation with a non-German theme unappealing. This has changed, and historical scholarship now also looks at broader connections and areas. "Maybe I even contributed little to this," says Reinhard.
However, the historian finds some recent developments unwelcome: since the Bologna reform, the program of studies is much more strictly organized. "I do wonder whether students still have the time to read anything other than compulsory reading." Teaching has also changed a lot and tried and tested methods can no longer be used. And as regards the increasing influence of technology, Reinhard does not believe that everything new is automatically good. In any case, he detects a massive change, "In the past ten or fifteen years more has changed here than in the previous 200 years of university history."
The sense of nonsense
Reinhard remembers his time in Freiburg as mostly positive. In particular, he enjoyed serious academic work at the university. "I always preferred researching and teaching to admin," he says with a grin. Cooperation with his colleagues also worked well here. Where there was competition in Augsburg to take on a particular research subject, he found the situation in Freiburg far more relaxed.
As a historian, Reinhard is used to considering long periods of time and broader connections. And perhaps this will also be the case in his upcoming lecture – however on a smaller scale. After all, it will focus on his own memories and experiences. Still, Reinhard will also be giving a critical assessment, so the lecture bears the pithy title 'Vom Sinn des Unsinns', or 'The sense of nonsense'. And he will be looking at research and teaching, with their associated successes and failures. "I'm looking forward to the possibility of telling the university what's what once more at the age of 81."
Pascal Lienhard
Erzählte Erfahrung

Wolfgang Reinhard will give his lecture 'Vom Sinn des Unsinns. Ein zweiter Versuch' at 8:15 p.m. on 8 February 2018 in lecture room 1098, Collegiate Building I. Admission is free. No need to register.

More information