Please Pass the Screwdriver
Free parts and service make the Student Government's Bicycle Workshop the best deal in town
Freiburg, Apr 19, 2018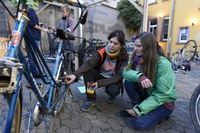 Photo: Thomas Kunz
Broken rims, flat tires, wheels that are out of true – if you want to repair your bicycle for free, the workshop of the student government is the right place to go.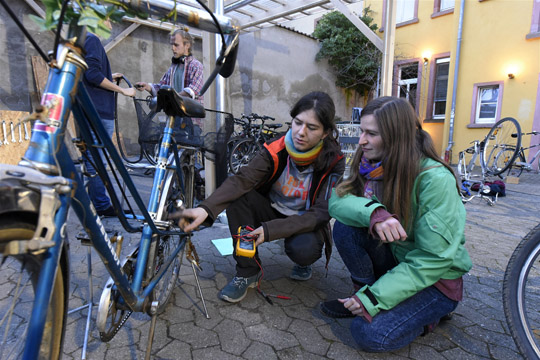 The bicycle workshop at Belfortstraße can handle almost any repair.
Photo: Thomas Kunz
Alisa has a problem. A few months ago, her blue bike went all wobbly. It started small, but got worse and worse. The fact that the rear wheel is out of true can't be ignored any longer. She wants to replace it as soon as and for as low a price as possible. The student kneels next to her upended bicycle in the yard behind Belfortstraße 24 in Freiburg. She's pushing, turning and tightening as Stefan explains how to straighten out her wheels. Stefan's bike needs repairs, too. The diagnosis is a broken rim. But first, he's helping Alisa. Her front tire is in a truing stand. It's a bit like being in an operating room: "Screwdriver, please. And now the flat nose pliers." There isn't anyplace that's a better value than the student government's bicycle workshop. The service here and used parts are free.
Alisa and Stefan aren't the only people who've come to the bicycle workshop this sunny Wednesday afternoon. The yard is full. There are nine people and nine bicycles. And there's Klara, too. She's part of the repair team at the self-help workshop, which opens its doors once a week during the semester. Anyone who has a question can ask Klara. Sociology student Paul, for example, doesn't have a clue how he can fix his flat tire. "I've never done it," he admits. Klara shows him how to lever the tire out of the rim, take out the tube, find the puncture and glue on the patch. After a half an hour, Paul mounts his repaired bicycle and hands Klara his patch kit. "A small donation to say thank you," he says as he drives off. A cake with colored sprinkles has been set out on an upended cycle trailer. "A woman student brought it by before," says Klara, "She was a customer and we repaired her bottom bracket last week." The job was a bit more labor intensive than usual, she explains.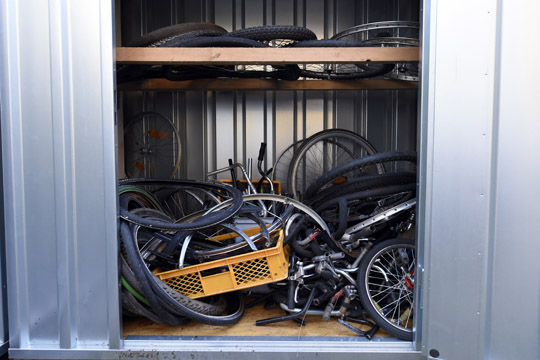 The bicycle workshop often accepts donations and recycles everything that can still be used.
Photo: Thomas Kunz
Dynamos, shift levers, pedals
The workshop team is made up of four men and women who receive a small amount of compensation for their work. In addition to her forest science studies, Klara works part time. Usually, the whole team is at the workshop on Wednesday afternoons. Two cover the hours from 2 p.m. to 4 p.m. and two others are there from 4 p.m. to 6 p.m. But today, Klara's on her own. She shrugs her shoulders and says, "I don't have any idea where the rest are. Maybe they'll still show up." There are two moveable metal containers in the back of the shop. They're filled to brimming with crates of dynamos, shift levers, valves, pedals and spokes – or in short, anything a bicycle could need. The workshop accepts donated bicycles all the time and recycles still serviceable components. In the meantime, Alisa's discovered that her wheel has two broken spokes. She and Stefan are looking for new ones in the container. Or more precisely, for used ones that are still intact.
Most students learn from acquaintances that there is a do-it-yourself bicycle repair shop right behind the University Library. Ephraim says the service is useful. A few weeks ago, one of the pedals broke off his bike. "Here I can find the tools I need and a pedal at the same time, too," he says. Alisa agrees, "At a bike shop, I'd have to pay for the repairs. Here I can do it myself and get the support I need." She says she hopes to ride home on wheels that stay true. "I'd find it quite nice to have done it myself," she adds.
Stephanie Streif
Bicycle Workshop

During the teaching periods of each semester, the Student Government's do-it-yourself bicycle workshop is open every Wednesday from 2 p.m. to 6 p.m. in the winter semester and from 2 p.m. to 8 p.m. in the summer semester. The workshop is located in the yard behind the Student House at Belfortstraße 24. The service is free-of-charge.