Help with Assignments
The 'Suchen – finden – schreiben' event on 4 March 2021 offers students digital lectures, workshops and advice
Freiburg, Feb 24, 2021
The spring break has begun – and so it's time for intensive work on assignments and writing final papers. Anyone who wants a bit of motivation and support with this can attend the digital event 'Suchen – finden – schreiben' on 4 March 2021, 2-4.30 p.m. To take part in the university library's (UB) event you simply have to enter an Ilias course room. Franziska Becker asked coordinator Sarah Schneider what students can expect.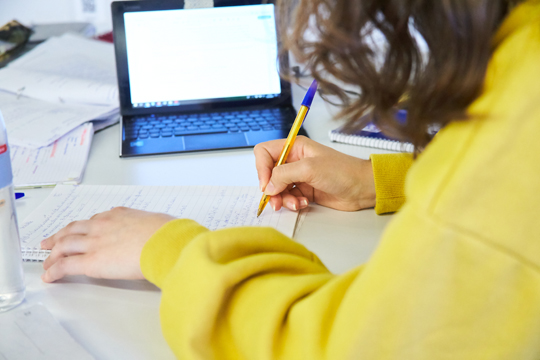 Good academic work begins with sound research – the university library offers tips. Photo: Harald Neumann
Ms Schneider, did you want more support with writing when you were a student?
Sarah Schneider: I studied library and information sciences and covered subjects such as research and academic work in several modules. So I wasn't that reliant on the university or university library offering support. But I heard from my cousin, who studied the production of books and media, that she missed having these services back then.
Who is the 'Suchen – finden – schreiben' event designed for?
The program is primarily designed for students from the first semesters and everyone who is writing an assignment or thesis for the first time. But anyone who runs into problems completing an assignment is welcome too.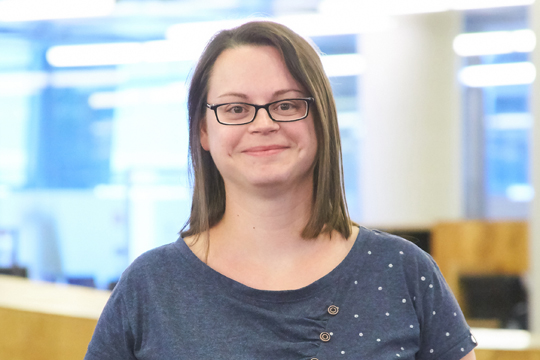 Sarah Schneider hopes that students will become more familiar with what the library has to offer. Photo: Harald Neumann
The event is a classic that has run for many years and is held at the university library. How can you present the process digitally?
We've set up an Ilias course room where we have already gathered information about academic work. For instance there's a link to the university library's research timetable. And the online tutorial 'FreiLern@UB' on writing academic papers can also be found there. Students can ask questions on the forum now, and specialists will answer them during the event. Also during the actual event there will be lectures on various academic work issues, for example on researching specialist databases and on the Internet. The Student Service Center is offering a workshop on the subject of keeping calm while studying online. This mainly looks at the current situation students find themselves in and how they can keep motivated at home. This is also the only lecture that you have to register in advance for, by 3 March 2021 at the latest via HISinOne.
What do you hope the event will provide?
Our hope is that students get used to the UB's advice services. They need to know that there is individual support in relation to their subject, and how the university library can help with researching literature and sources. We want to show students that we're there for them, even during the corona pandemic, even if it's a shame that we can't offer our guided tours and training on site at the moment.