Getting a Tailwind from Running Mates
A new program supports first-generation students
Freiburg, Jul 03, 2019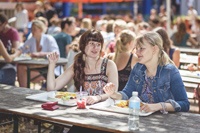 How do I apply for a government student loan (BAföG), where can I get academic advice, how do I apply for a room in student housing or for studying abroad? These are questions that many prospective students wonder about. To top it off, the first weeks at the university can be even harder if your parents didn't go to college themselves and are unable to help you. The new project "Running Mates" at the University of Freiburg wants to help make the transition for these first-semester students easier.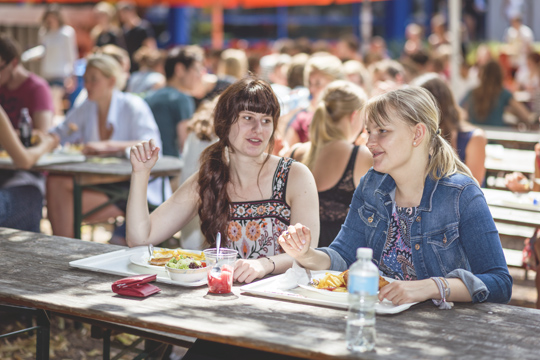 Older first-generation students act as mentors in the program Running Mates by sharing their personal and academic knowledge with younger students. Photo: András Wekler
According to a study on higher education published by the Stifterverband, first-generation students (students whose parents did not obtain a college degree) are often intimidated by academic hurdles. The study states that only 15 out of 100 children whose parents did not go to college get a bachelor's degree, compared to 63 out of 100 children whose parents have a higher-education degree. This is a similar situation for Kassandra Friedrichs, a first-generation student whose mother is a radiographer and father an auto painter. She is currently in her sixth semester studying Liberal Arts and Sciences at the University College Freiburg of the University of Freiburg. She always knew that she wanted to go to college since she was a child. "My mom has always supported my goal to go to college. But when it came to practical issues like choosing a major, applying to the university, applying for a government student loan, or looking for a place to live, she couldn't help me."
Like Kassandra Friedrichs, many young students whose parents did not get college degrees have similar experiences. That's why the University of Freiburg started the Running Mates project: to make the transition to student life easier for them. The idea is for older first-generation students to act as mentors in the program by sharing their personal and academic knowledge with younger students. The mentors receive training before the program. After being paired with a first-semester student, they tell them what they know about studying at the university and provide them with helpful information that parents can't. First-semester students can also attend a variety of workshops and networking events for free.
No need to be afraid of setbacks
Simone Judith Fesenmeier, also a first-generation student, works in the University's Department of Academic Development (Abteilung Lehrentwicklung) and is responsible for the project's coordination. "Through our program, we want to support those kids whose parents didn't go to college and have made their way to the university so they can reach their goals for their academic career," Fesenmeier said. "We want to help them overcome those feelings you can get of not belonging here at the University." Friedrichs knows those feelings well. "In the beginning, I often felt like I didn't belong here, and I didn't know where that came from." Then she found the initiative ArbeiterKind.de (Working-Class Kid), which helps students who are the first in their families to go to college. "That's when I realized that it wasn't because of anything I was doing; it was because of my background."
Now Friedrichs wants to help other students like her. She will be a mentor in the Running Mates program starting this October 2019. She plans to advise her first-semester partner not to get discouraged by student life or by scholarship applications. "I wish someone could have told me: 'Don't give up,'" she said. Another important issue for her is how to manage your workload at the university, "I was overwhelmed in the beginning. I also have some good advice about my major."
Mentors needed
Fesenmeier is currently looking for students who would like to be mentors starting this October. "Our goal is for students to give advice to other students and help them out." She puts the mentors and young students in teams of two based on certain criteria. What is important is that the mentor's experience and the first-semester student's expectations overlap. It's also ideal if both partners have the same major. Fesenmeier is proud of the program's first success: Running Mates won the 2019 Academic Award for Innovation (Innovationspreis Lehre 2019) issued by the Student Union (Studierendenvertretung) of the University of Freiburg.
Lara Wehler
Get active

The Running Mates program is open to students of all majors. Students who are interested in becoming mentors can register online.

Training for mentors will take place on October 9, 2019, 2–6 p.m. The orientation event for first-semester students will be on October 23, 6–7:30 p.m. The final event will be on December 11, 2019, also 6–7:30 p.m. From the opening to the final event, mentors and first-semester students meet one-on-one and are invited to attend different networking events and workshops. All students receive a certificate of participation on completing the program.

Running Mates