Generations Without Borders
A student initiative brings old and young together
Freiburg, Jun 04, 2018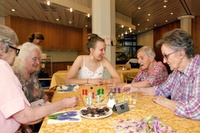 Foto: Ingeborg F. Lehmann
Nancy Frehse has been concerned about the issue of loneliness in old age for a long time and believes that too many old people are forsaken by society. Nancy, a student at the University of Freiburg, wanted to do something about this, so together with others she founded the group Generation Grenzenlos.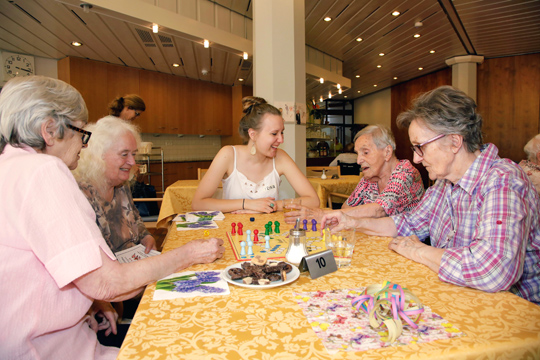 Throw, move, laugh: students and seniors have fun at the board game afternoons. Photo: Ingeborg F. Lehmann
The Ludo – or "Mensch ärgere dich nicht" – board is far larger than normal. It's Irina Grimm's turn. The young woman throws the dice, moves, and kicks her neighbor's marker off the board. "Sorry, you have to go back," she says and shrugs apologetically. "But then you just chucked someone out too!" It's Saturday afternoon and the cafeteria at the Evangelical foundation on Hermannstraße is busy. The doors leading out to the garden – where old and young are also sitting in groups and playing together – are wide open. Nine Men's Morris, Uno or Ludo. The board game afternoon isn't a random get-together. It was initiated by Generation Grenzenlos, a group of students from the University of Freiburg. Nancy Frehse founded the group more than six months ago, together with Sarah Böhm and Juy Chu Chak. To start with it was just the three of them. Now the group has nine active members and will soon become a formal association.
The cooperation with Freiburg's retirement home was Frehse's idea. While studying art history, she helped to organize the series of Café & Kunst exhibitions at the foundation. "The job was advertized and I applied for it almost two years ago," the 26 year old recalls. This led to her curating three exhibitions. Today, she is doing "Volontariat" or traineeship at the Fondation Beyeler in Riehen, Switzerland. In October she will start a Bachelor degree in Public and Non-Profit Management.
But this afternoon she joins in the games, tops up soft drinks and even hands out pieces of her own home-made cake to the residents. It is high time for a university group to be concerned about old people, she thinks. "Many students work with refugees, children, the sick. And that's a good thing. But we've forgotten our grandparents' generation."
Walks and chats
Frehse has been concerned about the issue of loneliness in old age for a long time, and believes that too many old people are forsaken by society. "They spend too much time alone, often because they have to leave their old home and start somewhere new for financial reasons." On top of this, leisure activities cost money: concerts, theater, exhibitions – they aren't possible without cash. Frehse thinks this is sad. At the same time, a lack of contact with their elders means the younger generation misses out on a lot of knowledge. The student group wants to change this, "Old and young will benefit equally from interaction." These are encounters on an equal footing, at the board game afternoons and walks. Every Sunday at 3 p.m. the students go to the city park together with some home residents. Every activity is free and open to all: relatives, friends and families with children. "Children especially do old people good," emphasizes Frehse – they are invigorating.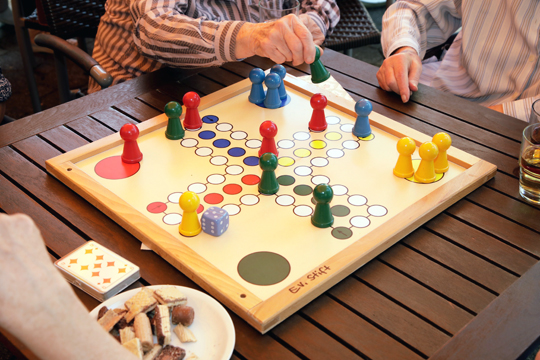 Foto: Ingeborg F. Lehmann
The mood around the table is cheerful. One elderly lady passes Irina Grimm a paper napkin with hyacinths printed on it. "They're for you," she says and laughs. Two tables further on there's a bit of a dispute. A home resident shakes her head. "No, you have to go forwards, not backwards!" she chides her neighbor. Energetically she picks up the marker and moves it. Someone who has been with Generation Grenzenlos since the start is Steffen Reuss. Why did he get involved? Simply: it's fun and refreshing.
Learning about aging
Reuss talks about the weekly walks. About wandering together through the greenery, getting into conversations and always hearing exciting tales. "This generation has experienced so much. I love to hear their stories." Reuss also talks about his own grandmother. She is 92 years old and has lived alone for many years. "She recently got a carer who looks after her. And this contact makes my gran at least ten years younger."
Walks and board game afternoons are one thing. But the group also wants to provide information on aging. They plan to invite experts to the university to research the issue. This is due to start in the 2018/19 winter semester. Soon, too, there will be a memory cafe that will be open to everyone, and they are also planning a mixed-age choir. Meanwhile, the group is always looking for new cooperation partners. The afternoon winds up at about five o'clock. Everyone says goodbye. "Will I see you tomorrow?" asks a home resident parking her rollator next to Nancy Frehse. "Of course!" the student answers. "It starts at 3 p.m." The old lady laughs and nods. "Lovely. I'm looking forward to it," she says and rolls away. And soon she has disappeared back into the home.
Stephanie Streif
Join in!

The Generation Grenzenlos group meets every Wednesday at 8 p.m. during semesters in Room 1231 at Collegiate Building I. There is also a weekly walk open to people of all ages. The group meets at the main entrance of Haus Schlossberg, Hermannstraße 14, Freiburg. Events, projects and ideas are posted on the group's Facebook page.