Connected Services launch a new event
On 6 July 2020 the program and projects will release information on their results and hold a discussion open to all
Freiburg, Jun 30, 2020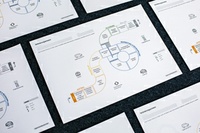 What has been going on since the first Connected Services event on 14 October 2019? What are the planned key areas for the next phase from autumn 2020? And what suggestions, questions and opinions have been put forward by members of the university about the project and its results? 'Connected Services: Insights and Outlook' is a new type of event which will present the current status of the program – its premiere takes place on 6 July 2020.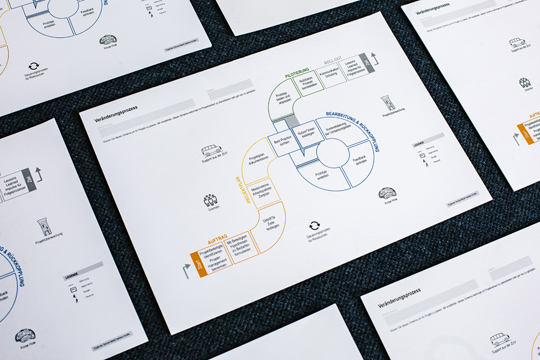 Change in five phases: the Connected Services project has developed a model which is designed to help groups structure their projects.
Photo: Sandra Meyndt
Online applications, e-invoices, applying digitally for official trips: the Connected Services program will be presenting information on the current status of these and other projects in video clips – they can be seen from 12 noon on 6 July 2020 on the project website. Connected Services will also be reviewing the outlook for key areas in the next phase of the program. All university staff who are interested are invited to take part in the new Connected Services Intranet group with Rector Prof. Dr. Hans-Jochen Schiewer, head of administration Dr. Matthias Schenek and the members of the program team between 12 and 2 p.m. and to discuss the program's content and plans, as well as presenting their own proposals and ideas or asking questions. "
Groups like this are part of a new package of functions for the Intranet, which for its part is a result of the first phase of Connected Services. We're delighted to be able to use it straight away ourselves, so that we can remain focused on an essential objective of Connected Services even under the conditions of the pandemic: improving communications with and between members of the university about modernizations and improvements in the area of administration," says Walter Willaredt, head of Administrative Department 1 - Organizational Development and Controlling, and one of the two program managers.
Rapid progress in the first phase
After the virtual event on 6 July the discussion will continue, "Colleagues will still be able to contribute their questions, suggestions, proposals and criticism to the Intranet group," explains Andreas Friedrich, personal consultant to the rector and also a Connected Services program manager. The program will continue to support the discussion on the Intranet and at the end of July 2020 plans to publish a statement on the feedback, with the form the statement takes depending on the nature and scope of the feedback. The program team appears satisfied with the results it has achieved so far, "In the first phase of Connected Services we concentrated on administrative processes that affect many members of the university, involve large numbers and can be simplified and digitized in a relatively short time," says Friedrich. "The responsible teams have therefore advanced work processes at the university in small but very important steps. We're hugely thankful for this commitment."
Bigger and better steps from autumn 2020
For the second phase from autumn 2020 bigger and better steps are planned: one goal is to move into digital document management for the entire university, with the aim of creating a basis for further digitization projects. Another project will be devoted to the question of how virtual cooperation between employees in the workplace and in the home office can be further improved. "Against the background of the corona pandemic certain questions have arisen which we are working with increased urgency to answer by means of Connected Services. It's been an additional motivation for us," stresses Willaredt. The Connected Services: Insights and Outlook event will take place again in 2021 – the aim is for it to take place annually during the summer semester. "The first one in a virtual format is an experiment," says Friedrich. "We would be delighted if as many colleagues as possible would get involved and join in the discussion with us and with each other."
Nicolas Scherger