"Anyone can join in"
"Wissen+Welcome" is organizing lectures for refugees – and would be pleased to accept more presenters
Freiburg, Jun 20, 2017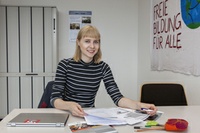 Photo: Ingeborg F. Lehmann
The project's name translates to "Knowledge+Welcome" in English. Its aim is to provide knowledge and continuing education for refugees. The short presentations on a range of topics should relate to the refugees' lives in Germany and give them deeper insight into the society and life in this country. Lars Kirchberg wanted to find out how the project is being received, so he spoke with Josefine Morgan of the Department of Political Science, who is engaged in the project.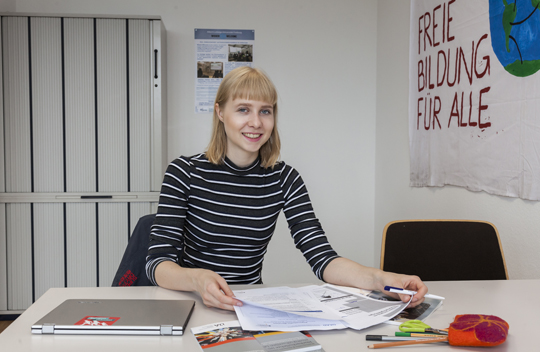 Presenters should be open and enjoy giving lectures, says Josefine Morgan. Photo: Ingeborg F. Lehmann
Frau Morgan, what was the idea behind "Wissen+Welcome?"
Josefine Morgan: As the name already implies, the concept is that you go into refugee hostels yourself to welcome the people and satisfy their thirst for knowledge. We are aspiring to become something like an "institute of continuing education" for the refugees. But the project is just getting started. We've only been at the University of Freiburg since the autumn of 2016.
You are very dependent on the voluntary commitment of the presenters. What qualifications should they have?
Nothing special. Everyone can join in. Yet in any case, they should be open and enjoy giving lectures. Ideally, it would be great if the speakers would prepare a short power point presentation ahead of time. But that's not a must. We are generally happy about anyone who is interested in our project. That's why we don't really have any exclusion criteria. But we do see to it that there is a healthy range of topics in order to offer a balanced program.
Which subjects are particularly in demand?
The trend is clearly towards topics about Freiburg and the surrounding region. The people are interested in the town in which they are living. Sports and Germany as a country are also popular themes. We're happy to see that many people are also interested in politics. They're particularly interested in the topic of democracy. But everyday subjects are also in demand. For example, I gave a presentation on "German Cooking."
Do interested volunteers need any foreign language knowledge?
Knowledge of foreign languages certainly never hurts. Particularly in the initial reception centers, we're really extremely grateful when the presenter is able to deliver the lecture in English. Simple English is more than enough in this case. Of course, the lecture can also be presented in German. We will then provide translation into Arabic.
How does an evening lecture unfold?
Once everyone's arrived – that's about 20 to 30 people on average – we get started. As a rule, there are from two to three lectures. A lecture lasts about fifteen minutes. We plan five minutes for questions after each lecture.
Where are the lectures held?
At the moment we're mainly active at the initial reception center, working on a cycle of about two weeks. We visit the hostels in Zähringen and Littenweiler once a month. We're also speaking to vocational schools whose space we hope to be using starting in September 2017.
Is it possible to observe a session as a potential presenter?
Of course! We've had that a number of times in the past. The offering is free of charge. But you should register with us ahead of time.
What, in your opinion, motivates people to become presenters?
I think it's interesting for people to step out of their little bubbles and take the opportunity to see the inside of a refugee hostel for themselves. You also meet interesting people. That alone is already an enriching experience.
How do the refugees receive the offering?
Very well! Especially at initial reception, we've got a very loyal audience. Once a month we conduct a survey to see if people's consciousness has changed and if we can recognize trends. But it's still much too early for statistics with real informational value. Nevertheless, you can't underestimate how interested many refugees are. We've even got some proper fans who attend again and again.
Wissen + Welcome
http://www.uni-freiburg.de/universitaet/refugees-welcome/initiativen/wissen-und-welcome

Contakt
wissenwelcome@outlook.de