The Big Picture Is What Counts
As of October 1, 2020, Kerstin Krieglstein is the new rector of the University of Freiburg. She believes that a strong community is the basis for success
Freiburg, Oct 01, 2020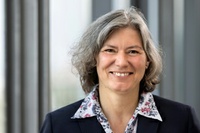 When nerve cells grow, they follow a sophisticated program. They feel their way with small, delicate feelers, while their surroundings send them signals that indicate whether they are moving in the right or wrong direction. The more nerve fibers that follow this program, the stronger and more diverse the neural network becomes. Prof. Dr. Kerstin Krieglstein, who is a brain researcher, believes this idea can also be applied to the University of Freiburg's development. Step one: conduct an analysis; step two: make a decision; step three: the entire team gets on board. Krieglstein, who is 57, is bringing this approach to her position as rector of the University of Freiburg starting October 1, 2020. In a conversation with Rimma Gerenstein, she talked about why she wants to make our community stronger, what the University of Freiburg's chances are in the next round of the Excellence Initiative competition, and the role of universities in these times of a global pandemic.
e47c2911c4b57e77cab47b8e5f349499
Kerstin Krieglstein wants to improve the University of Freiburg's ability to remodel itself. She says, "We need to have mechanisms in place that make us question, on a regular basis, whether what we are doing is ideal for the goal we are striving for." Photo and Video: Jürgen Gocke
Prof. Dr. Krieglstein, this is the second time you've been elected rector of a university. Is this something that has been on your career bucket list from the start?
Kerstin Krieglstein: Not at all. When I was young, I didn't really have many ideas about the future of my career at all. Once when I was a student at the University of Munich, I was invited to a graduation celebration once. It was in a venerable old building, in a stately hall. Everyone seemed so glamorous to me; I felt like I was in a museum. I thought to myself, I don't want to work in an environment like this.
Well, there's not much glamor in a laboratory – you chose to become a researcher. What motivated you to enter into higher education management despite your already successful career as a researcher?
I think that all researchers, at some point in their careers, wish their work processes were easier and that the academic infrastructure was better. There are two options for how to deal with this: Either you get involved and make a change, or you accept the way things are and quit getting upset about them. I decided to run for the faculty council while I was at the University of Göttingen, and I was elected. But, of course, nothing is as simple as it looks. I learned quickly that there are a lot of constraints regarding the work of committees, and that the scope of what you are able to do is not very big. When I was appointed professor at the University of Freiburg, I decided to leave the extra work aside and focus on my research.
But that didn't last long. You were elected vice dean of Structure and Development in the Faculty of Medicine and then you were elected full-time dean.
That all started when I naively said yes. I didn't know what a vice dean does, but I thought to myself, if I don't have a clue about it, then it might turn out to be really interesting. Then, at some point, the faculty's structure and development plan had to be drawn up, for the first time in conjunction with the University of Freiburg Medical Center. All of a sudden, I could have a say in how things were organized. It was exciting to find a balance between research, teaching, and providing health care. Later, when they were looking for a new dean, people said to me, "Nobody knows this faculty as well as you do." At the time, I thought I would be able to continue researching while serving as dean. However, that quickly turned out to be an illusion, so I took the appropriate step: I decided that before I would do second-rate research, I would make a clean break.
You were rector of the University of Constance, a University of Excellence, for a brief time. Why did you want to move to a university that lost two rounds of the Excellence Initiative competition?
The University of Constance is great, the city is beautiful, and Lake Constance is lovely. However, I feel a strong connection to the University of Freiburg, and when I got the signal, I couldn't resist. As to its two failures, the University of Freiburg clearly belongs in the ranks of Universities of Excellence. I'm confident that we will succeed in the next round of the competition.
Does the University of Freiburg need a different kind of rector than the University of Constance?
Let's put it this way: If you compare the two universities, you'll notice many differences. The one is an old, traditional university spread out over the entire city; the other is a newer, reform university based on a centralized campus. The University of Constance was founded on the idea that great things can be achieved as a community. Of course you can't get ahead without a few smart people in your team, but the structures in this kind of university are designed to benefit everyone. You can't bring a piece of equipment to the lab and not let others use it. You always have to prove that a method or approach doesn't benefit just one researcher, but many others as well. The researchers there do most of their work with researchers from other disciplines, and sometimes they work in unusual settings. You need to have very original research subjects there, because the university is much smaller and it's not so easy to find 20 fellow researchers to collaborate with. I think things work differently at the University of Freiburg.
What do you mean?
Here, researchers and teaching staff are organized around their institutes and faculties. The University of Freiburg also has 185 buildings spread out over the entire city. All of this means that there are many independent structures that make it difficult to collaborate and to work together as a community. I want to change this mentality and promote a willingness to work together, so that we too can come up with original ideas for collaborative research. The numbers speak for themselves: The University of Freiburg is always high on the ranking lists, and it is one of the best universities in Germany.
After you were elected, you said you wanted to promote the University's ability to renew itself. How do you plan to achieve this?
The ability to renew oneself is a key requirement for the Excellence Initiative competition. We need to have mechanisms in place that make us question, on a regular basis, whether what we are doing is ideal for the goal we are striving for. We don't have endless financial resources, like we did 40 or 50 years ago. If we try plan A and realize it isn't getting us any closer to our goal, then we have to drop it and move on to plan B. And if that doesn't work, then we need to come up with even better ideas. I think about my own field of research: neuroscience. When nerve cells grow, they need to sense if they're growing in the right direction. They have tiny feelers that they use to sense whether positive or negative signals are being sent from a certain location. The cells ask themselves which direction do we turn, left or right? When the decision has been made, the whole team of cells gets on board and follows it through. In principle, it is this kind of self-analysis that the Excellence Initiative competition's jury of experts expect from universities.
That's a clear statement. Do you also see your responsibility as rector this way?
When I left the University of Constance, everyone said, "Prof. Dr. Krieglstein, you were always clear about what you want." I found that very amusing. The question is what we mean by this. The job of all rectors is to represent their university both within the institution and to the public. I believe that this responsibility also includes supporting the university's development by creating structures that strengthen it as a community. I don't make my decisions based on individuals, but based on what is best for the entire community. This is something I will always stand by, and it will be the measure of my success.
You also said that you value participation highly, so how does that work with clearly stating what you want?
I think a lot about university development, and I have lots of ideas about how things could be done better. But it doesn't help to act like my ideas are better and patronize people. What is important to me is to ask different groups of people the following questions on a regular basis: Are you happy with the situation? What could be improved? What actual steps can we take to achieve this? I want to give the people involved the space they need to discuss and argue about how we can work together to find better or more suitable solutions for the University of Freiburg and then put these into action. You can't override this process by telling people what to do.
And then sometimes something unexpected gets in the way. The coronavirus pandemic brought research and teaching at universities to a standstill this last summer semester.
Yes, it did. Because of the pandemic, we've had to face some major hardships – and it's far from over: The daily infection numbers are rising again, and entire areas and states are being declared hotspots. The University of Freiburg was planning to offer more in-person classes this winter semester, but we'll have to look into that more closely. Our top priority is the safety of the University of Freiburg community. Fortunately, many teachers and students have now gained some experience with remote classes. This makes remote teaching easier, although it is not ideal. And I have to say, I have also witnessed something wonderful during this whole pandemic: The universities have not only proven how resilient they are; they have also demonstrated how they provide a key service to our society. Very quickly, researchers formed networks across borders and disciplines to share their knowledge, so that they are able to find solutions that benefit everyone.
Do you see this as the responsibility of universities in the twenty-first century?
Universities will always be institutions of education that do more than just teach data, facts, and methods. They are driven by curiosity and a will to discover new things. Also, we don't shy away from our responsibility to society. I can think of one example from the University of Constance, where a mathematician developed an algorithm that made it possible to optimize the supply of sustainable energy to the city's neighborhoods. I believe that universities are an important driving force for society, especially in times when an anti-science sentiment and "alternative facts" are spreading. Without universities, we will not find solutions for future challenges, whether these concern climate change, artificial intelligence, or pandemics.
I have just one last question: What comes to your mind when you hear the words "work-life balance"?
It's funny, but I just read a book about that: "The Café on the Edge of the World" by John Strelecky. It's about a man who is under constant stress and is overworked who slowly starts to think about things. He asks himself what is the meaning of his life and if he is doing what truly makes him happy. I have asked myself the same question, of course. For me, work-life balance means that I am happy with myself and my life, and that I feel good at work and at home. I am fortunate to feel content in both places. That makes it alright if my work hours are sometimes longer or my weekends sometimes shorter.