Mobile with Eucor
The University of Freiburg funds projects designed to improve cross-border studies and teaching
Freiburg, Jul 11, 2019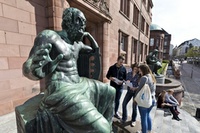 Photo: Jürgen Gocke
Eucor – The European Campus unites a total of 117,000 students in three different countries. Anyone registered at one of the five partner universities from Germany, France and Switzerland can make use of the offerings of the entire association. However, close arrangements between departments, teachers and administrations are necessary to enable cross-border mobility for students. Now, for the second time, the University of Freiburg is calling for applications for projects that will improve how disciplines network and promote mobility throughout the European Campus. Applications can be submitted until 21st July 2019.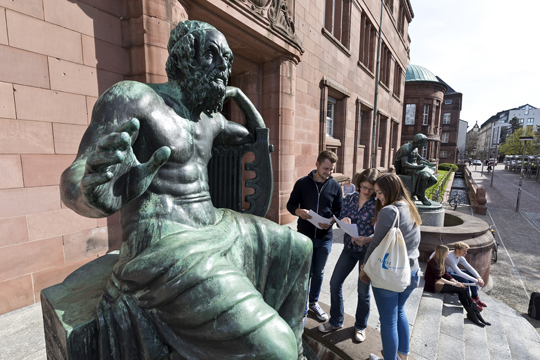 Anyone registered at one of the five partner universities in Germany, France and Switzerland can make use of the services of the entire Eucor association. Photo: Jürgen Gocke
Which Eucor university degree programs go well together? What is the focus of studies in a specific location? How can joint courses be offered when semesters run at different times? Just a few of the questions that Prof. Dr. Andrea Kiesel from the Institute of Psychology, Prof. Dr. Frank Preusser from the Institute of Geology and Prof. Dr. Markus Tauschek from the Institute of Cultural Anthropology and European Ethnology are currently pondering. All three want to establish long-term and attractive exchange programs in their disciplines with other Eucor universities.
Since 1st July 2019 their three projects have received funding from the University of Freiburg to enable them to develop ideas for cooperations. Until now, cooperation has taken place in their departments in some cases either without a reliable study plan or informally, and they are endeavoring to create better conditions for cross-border study.
Highlighting study opportunities
How can students of psychology benefit from this trinational opportunity, for example? "Intercultural competencies are very important these days," emphasizes Andrea Kiesel. "Both business psychologists and psychologists in advice services are constantly in contact with partners from other cultures. Anyone who studies on the European Campus can also put their study plan together from the range of teaching at all the psychology faculties." One single university could not manage this on its own.
Kiesel wants to convince her students about Eucor's mobility. But there are barriers, "Unfortunately not all students are aware of the opportunities, there are language barriers, and information about courses is sometimes not easy to find or understand at other universities." Kiesel wants to make use of the upcoming reconceptualization of degree programs at her university and the introduction of an English language Masters in psychology. At the same time, she wants to develop a mobility concept that recommends to students that they study at another Eucor university and gives them the necessary information.
Enhancing cooperation
Interest in a cooperation is also high in environmental sciences: since 2014 there has been an informal research project involving the universities of Freiburg and Strasbourg. Frank Preusser and his colleague Laurent Schmitt are studying how the Upper Rhine region has developed. The project is not just for research purposes – both of them want to offer joint courses for Eucor students, "The teaching skills at the Université de Strasbourg and the University of Freiburg complement each other well," says Preusser. "By creating a joint Masters we can offer a better education and at the same time increase the social skills of the students with the international environment. "
First, however, we have to overcome some administrative barriers. The funding will now help Preusser to analyze the situation as it stands at the moment and outline a variety of solutions for a smooth cross-border cooperation.
Madeleine Marquardt
Apply by 21st July 2019

The second application phase of the program runs until 21st July 2019. Four projects can receive funding of up to 6,000 euros each. Applications by staff at the University of Freiburg must be submitted in writing via the Dean's Office of their Faculty to Florence Dancoisne, coordinator of Eucor – The European Campus.

Eucor – The European Campus