Don't Leave the Future Out in the Rain
A petition calls on the state of Baden-Württemberg to invest more in the future of its institutions of higher education
Freiburg, Nov 22, 2019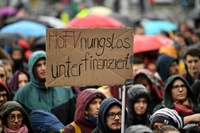 Photo: Patrick Seeger
21,000 – that's how many signatures are required to reach a quorum for the petition: "Shrinking our Education into Nothingness – For Full Financing of the System of Higher Education in Baden-Württemberg!" ("Hochgeschult – kaputtgespart: für ein ausfinanziertes Hochschulsystem in Baden-Württemberg!")  The state student government is submitting the petition to bring things into motion. Even after the state-wide Day of Action at the end of October 2019 (Aktionstag Ende Oktober 2019) the state Ministry of Finance in Stuttgart is still unprepared to meet the central demands of the universities.  Negotiations are ongoing. Nevertheless, if the demands go unsatisfied, research and teaching will be seriously threatened. Rimma Gerenstein asked members of the University of Freiburg why they are supporting the petition.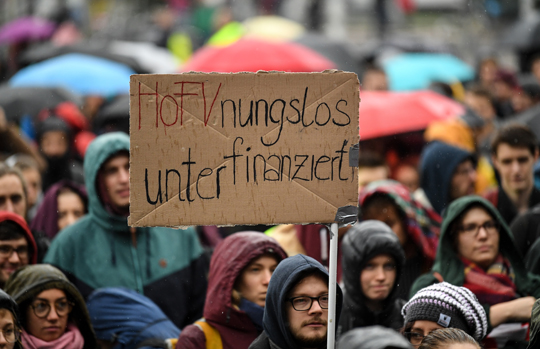 Around 1,500 people took to the streets of Freiburg to demonstrate for adequate university financing. Photo: Patrick Seeger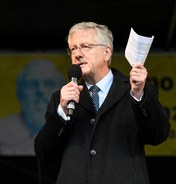 "All of Baden-Württemberg took to the streets. People joined us in standing up and raising their voices to say: No research, no education, no future! This message was unequivocally heard in Stuttgart. There are signs that the universities will receive additional funding. We welcome that wholeheartedly, but it's not enough for us to continue to maintain our high level of research and teaching and face future challenges, such as digital transformation. The University of Freiburg has an annual structural operating deficit of around 7.5 million euros. The state student government's petition is an excellent opportunity to raise awareness of these financial woes. Please sign the petition and lend your voice to insure that Baden-Württemberg remains an outstanding location for research and industry into the coming decades and guarantees that opportunities continue to be open for the coming generation."
Prof. Dr. Hans-Jochen Schiewer, Rector of the University of Freiburg
Photo: Patrick Seeger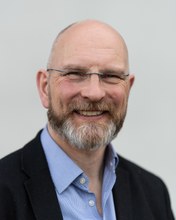 "Of course as a researcher, it's important to me that the state invests more in research, but I'm critical of spending as well. Money is not in infinite supply and there are other areas that need financial support as well. Nevertheless, research boosts the quality of life and economy of a region. And it is precisely in regions with less industry, like Freiburg, where it creates jobs. But in order to offer these people a good outlook, I need to pay them reasonable salaries. More than two-thirds of my employees are financed through funds that I've raised myself – otherwise, my team would not be able to keep researching at the same high level. We also rely on annual contributions from the state, but these funds are not adjusted for inflation. The amount hasn't been increased in fifteen years, while during the same period, for example, the hourly rates for research assistants have doubled and the costs of materials we need for our experiments have risen as well. We need basic funding that doesn't overlook the realities at universities."
Thomas Stieglitz, Professor of Biomedical Microtechnology, Faculty of Engineering
Photo: Patrick Seeger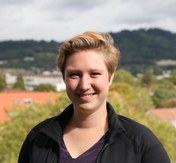 "Throughout Baden-Württemberg, a total of nearly nine thousand people marched and sent a clear message on 30 October. Our universities have to receive more funding in order to ensure the quality of research and teaching. That was an important signal – and it was heard in Stuttgart – ultimately they got back to speaking about increases again. But these measures are insufficient. We students know that the quality of our studies, and with them our education, and our skills for dealing with the challenges of the future, are at risk. It can't go on like this. Scrimping and saving without rhyme or reason is shrinking our education into nothingness. That's why the student governments in Baden-Württemberg began circulating a petition – because we believe that more pressure needs to be placed on the state government in order to finally move them to reconsider. Without this rethinking, the quality of our studies and many university places will be seriously at risk."
Carlotta Rudolph, Executive Committee, University of Freiburg Student Government
Photo: Max Orlich
"The state-wide Day of Action campaign was just the beginning. The concerns of the universities retain their relevance, despite the approved, additional, state funding. On the one hand, the prospective sum is insufficient for genuinely solving the problems of the universities. On the other hand, a level of permanently increased, basic financing is still absent. The staff council of the University of Freiburg for that reason emphatically supports the students' online petition. Those who scrimp on investment in education are ultimately placing the future of the state in jeopardy. For universities that have already been plagued by inadequate funding for years, the point has now been reached where cutting jobs or other austerity measures are no longer possible without endangering the existence of the institutions themselves. That's why now is the time to act and raise awareness of the universities' financial woes."
Dr. Helmut Waller, Chairman of the Staff Council of the University of Freiburg
Photo: Patrick Seeger
Press release of the state student government (pdf, in German)
Hochgeschult – kaputtgespart (in German)