A Temporary Academic Home
The Philipp Schwartz Initiative offers persecuted researchers the opportunity to work for two years at the University of Freiburg
Freiburg, Apr 26, 2021
When it's no longer safe to research and work in their own country, German universities and research institutions can offer temporary safety to foreign scholars at risk. Freiburg also offers a home to asylum seekers from places such as Turkey.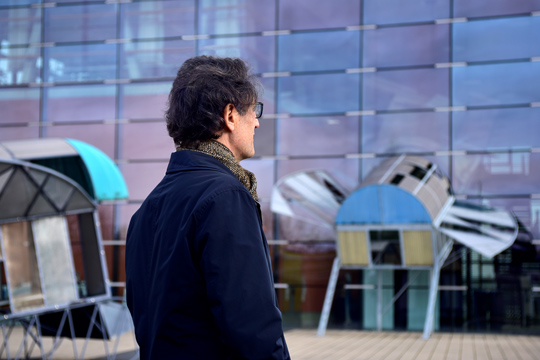 Turkish scientist Levent Alptekin (name changed) has received a scholarship at the University of Freiburg. Photo: Thomas Kunz
Any talk about the Philipp Schwartz Initiative usually comes round to the subject of Turkey. When the Austrian Jew Philipp Schwartz fled Germany in 1933 his first place of refuge was Zurich. In Switzerland the pathologist founded the Emergency Society of German Scholars Abroad. However Schwartz also began to build connections in Turkey, where reform of higher education was setting new standards for the autonomy of teaching and research. Philipp Schwartz was not alone in finding a safe haven there, with many other researchers who had fled the Nazis resuming work in Turkey.
Named after the pathologist and established in 2015 by the Alexander von Humboldt Foundation and the German Federal Foreign Office, the initiative now enables scholars at risk to undertake a two-year stay at a German university. While there, the researchers receive a full scholarship, and at the same time the foundation supports the institution to write the application and appoint a mentor who oversees the research project. Since the attempted coup in 2016 the Philipp Schwartz Initiative has mainly funded researchers from Turkey. This is also the case at the University of Freiburg which has been engaged in the initiative since 2016, confirms Dr. Katrin Brandt from the Freiburg Institute for Advanced Studies (FRIAS). She is the team leader for the Fellow Service and looks after the researchers who come to Freiburg with the assistance of the Philipp Schwartz Initiative.
Regular Repressive Measures
The initiative helps academics such as Dr. Levent Alptekin and Dr. Edip Tamer (real names have been altered to protect their identity for safety reasons). Both scientists began their careers at renowned universities in Turkey. Both know colleagues who were imprisoned following the attempted coup. Alptekin's alma mater is one of at least a dozen universities that were closed. Thousands of academics are effectively barred from working in Turkey and with their jobs also lost their pensions. New repressive measures against the scientific community are consistently being reported. A brain drain has been underway for years now, reports Alptekin: academics, engineers and teachers are all leaving the country.
While Alptekin was able to teach biology at a school in Turkey for two years and was therefore able to earn a means of subsistence for his wife and himself, Edip Tamer emigrated back in 2017. His family and friends advised him to leave, because they saw no future for him in Turkey. He feels safe in Freiburg, says the postdoc at the Institute of Biochemistry and Molecular Biology. Tamer finds it hard to believe what has happened at the universities since the attempted coup. As a scientist he is used to looking for reasons, explains the microbiologist, but all he sees is despotism. In Germany he was granted a three-year permit to remain and work. Since he had already worked at a laboratory in the USA for his PhD, he went back to the States for a six-month research visit, but afterwards he returned to Germany, partly because he felt that his prospects were better here but also because he wanted to give something back to German society with his research. So what will he do after the two-year scholarship? His first choice, he says, would be to continue researching and maybe take a second academic degree, because science is not only his career but also his passion.
A native of Istanbul, Alptekin is now living in Kinzigtal with his wife. He laughs off questions about culture shock and prefers to talk about the snow on the local mountain, Schauinsland, but also speaks of far too curious questioning at the local mosque, which has led him to avoid religious meetings since then. In November last year, Alptekin who worked on cancer research amongst other things in Turkey was granted a scholarship by the Philipp Schwartz Initiative. Speaking in German, Alptekin explains that he wants to integrate into academic life while on the two-year program.
A bonus for the jobs market
Normally FRIAS helps to provide an academic home through seminars, meetings and events, however this has not exactly been easy during the pandemic. Above all however FRIAS guides and advises scientists who cannot return to their country of origin after the scholarship, and attempts to sound out where they can find prospects for the future, possibly outside higher education, perhaps in industry or schools. Good German language skills are still essential for the German jobs market in Katrin Brandt's experience. And because there are differences between the academic systems in Turkey and Germany, the transition isn't always seamless.
Katharina Aly, head of the university's International Office (IO) confirms that everything depends on the quality of research. The institution advises both the scholars who are at risk about potential funding and the departments that want to engage these researchers. In addition, the IO's Welcome Service helps scholarship holders to settle in to Freiburg and guides them through issues such as finding a place to live and dealing with the authorities.
"A good relationship between mentor and scholarship holder is important for a successful stay," says Aly. Since the first application, the University of Freiburg has been involved in every successive round. "The University of Freiburg is committed to freedom of research and teaching globally," stresses Aly. While some countries have declared scientists enemies of the state, here the freedom of research and teaching are anchored in the German Constitution.
Annette Hoffmann