Fellowships for researchers at risk
University of Freiburg successfully applies to the Philipp Schwartz Initiative for two researchers from Turkey
Freiburg, Jul 11, 2017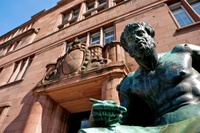 Photo: Peter Mesenholl
The Alexander von Humboldt Foundation has selected an application from the University of Freiburg in the Philipp Schwartz Initiative's third round. The successful proposal gives two researchers from Turkey who are at risk an opportunity to spend time working in Freiburg. "The current developments at Turkish colleges and universities are causing us great concern," says University of Freiburg Rector, Prof. Dr. Hans-Jochen Schiewer. "We believe it is important to support our colleagues in Turkey who are threatened with repression and in a difficult situation. We are at the same time emphasizing that freedom of research and teaching is non-negotiable," Schiewer continues. The University of Freiburg, together with the German Rectors' Conference (HRK) and the German Association of University Professors and Lecturers (DHV), has criticized actions the Turkish government has taken against university educators and pledged their solidarity to those affected.
The two researchers who are to receive fellowships have not yet arrived in Freiburg. Their names will not be made public. Structures and procedures for settling the researchers at the university have already been established: The International Office (IO) and the Freiburg Institute for Advanced Studies (FRIAS) have together worked out a concept for helping researchers at risk. The Welcome Service of the IO is one of the first places the fellowship recipients will receive aid. At the IO, staff will electronically perform some of the bureaucratic tasks the researchers face, such as registering with city authorities, for example. They will also help with finding lodging and child care. The academic hosts – supported by the relevant department – will ensure integration in the university environment, which includes providing office or laboratory space and inclusion in teaching and research operations.
At FRIAS, which has been aiding international guest scholars and researchers since 2008, the fellows will receive a first, academic base. A staff member will function as an "academic advisor" specially dedicated to this group of fellowship recipients. The advisor supports the researchers in everything from becoming incorporated in university networks to getting into the job market outside the university's environment. Furthermore, the advisor makes fellows aware of the appropriate consulting and training opportunities, such as the Language Teaching Center, (SLI) or the Freiburg Academy of Continuing Education (FRAUW) of the university. Beyond that, the fellowship recipients will have an opportunity to reflect upon their experiences of flight, migration and human rights in an academic setting within the context of the research of FREINEM, the Freiburg Network for Migration and Integration Research (Freiburger Netzwerk für Migration und Integrationsforschung).
Background information on the Philipp Schwartz Initiative
The Philipp Schwartz Initiative was established by the Alexander von Humboldt Foundation together with the Foreign Ministry of the Federal Republic of Germany. It enables universities, colleges and other research institutions in Germany to provide guest fellowships for scholars from abroad who are at risk. This initiative is financed by the Foreign Ministry, the Alfried Krupp von Bohlen und Halbach Foundation, the Fritz Thyssen Foundation, the Gerda Henkel Foundation, the Klaus Tschira Foundation, the Robert Bosch Foundation and the "Stiftung Mercator."
http://www.humboldt-foundation.de/web/philipp-schwartz-initiative-en.html
Alexander Humboldt Foundation press release on the third round of the Philipp Schwartz Initiative


Contact:
Katharina Aly
International Office
University of Freiburg
Tel.: 0761/203-4376
E-Mail: katharina.aly@io.uni-freiburg.de
Dr. Carsten Dose
Freiburg Institute for Advanced Studies (FRIAS)
University of Freiburg
Tel.: 0761/203-97404
E-Mail: carsten.dose@frias.uni-freiburg.de