The Provisional Results of the University Elections Are Out
Students and matriculated doctoral candidates have chosen their representatives for the Senate and the faculty councils
Freiburg, Jul 14, 2021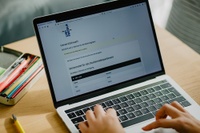 Photo: Sandra Meyndt
In the University Elections, held from 7 to 13 July 2021, University of Freiburg students and matriculated doctoral candidates elected their representatives for the Senate and the faculty councils. After the introduction of an electronic voting system in 2020, this year's elections were again held online.
There was a 11.10 percent voter turnout, considerably lower than last year (15.29 percent). This development has also been observed at other universities in Baden-Württemberg this year. Like last year, the turnout among students was somewhat higher, at 11.28 percent, than it was among doctoral candidates, 9.05 percent of whom made use of their right to vote.
The new student members of the Senate are Jan Rahner (Juso HSG), Maya Rollberg (Juso HSG), Julia Gräber (Die Mitte), Klara Anette Oehler (BVS-a), and Hans Albert (BVS-b). For the doctoral candidates, Valerie Ambrosi, Friederike Lammert, and Sebastian Will were voted into the Senate.
In addition to the members of the Senate, the students and doctoral candidates elected 58 members to the eleven faculty councils and great faculty councils. Thirty-four of them are women, which makes 58.62 percent of the elected members. In the Senate, 62.5 percent of the newly elected members are women.
The Senate represents all areas of the university. The faculty councils and great faculty councils have tasks and functions for the faculty level like those of the Senate for the university as a whole.
The newly elected student and doctoral candidate representatives will serve one-year terms. The terms of office begin on 1 October.
The names of all newly elected representatives and their deputies were posted on the University of Freiburg Election Platform.