The "One University – One Book" program slated to begin
The project illuminates the issue of hate from the perspectives of science, self-reflection and public discourse
Freiburg, Oct 19, 2021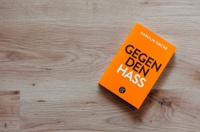 Photo: Max Orlich
Discrimination, exclusion, polarization: the term hate has many faces. As part of the project "For a University of Diversity and Against Hate!", a team from all areas of the University of Freiburg has developed various event formats that, based on the book Gegen den Hass (Against Hate) by Carolin Emcke, illuminates the issue of hate from the perspectives of science, self-reflection and public discourse. The University of Freiburg is thus implementing a project with which it was successful in a call for proposals by the Stifterverband. The project will kick off with a digital lecture series as part of the Colloquium politicum starting on October 27, 2021, which will take place on five Wednesdays from 8 p.m. c.t. and for which anyone interested can register online one hour before the event.

Lecture series illuminates the scientific perspective

Within the framework of five lectures, scholars will address the topic of "hate" from their respective perspectives. They will ask how hate arises, which forms of hate exist and which social, historical or psychological factors influence these forms. The lecture series is aimed at a broad audience and begins with a lecture on "Hate in the Media" by Prof. Dr. Sabine Schiffer from the Frankfurt University of Applied Sciences. On the following three dates, the Freiburg researchers Prof. Dr. Johanna Pink, from the Oriental Seminar, Prof. Dr. Ulrich Bröckling from the Institute of Sociology, and Prof. Dr. Ursula Nothelle-Wildfeuer from the Faculty of Theology will speak. The final lecture in the series will be given by Prof. Dr. Uffa Jensen from the Center for Research on Anti-Semitism at the Technische Universität Berlin.

Self-reflection and public discourse

On October 28, 2021, a seminar with practical exercises will be held for University staff members on the topic of "Communicating when faced with discriminatory language." "The aim of the seminar is to teach skills for responding appropriately and confidently in difficult, discriminatory situations instead of remaining silent or running away," explains project coordinator Dr. Helmut Waller.

In addition, starting on December 2, 2021, four panel discussions will take place every Thursday from 6 p.m. c.t. so that the exchange can develop not only internally, but in a broader-based public discourse with social players. In addition to Freiburg researchers, the author Annette Pehnt, Freiburg's mayor Martin Horn, and the sports journalist Christoph Ruf have also agreed to participate in the discussion. Among the topics to be discussed will be the portrayal of hate in the cultural genres of literature, film and theater, or exclusion and hate in sports. A discussion between author Carolin Emcke and SC Freiburg coach Christian Streich is also planned for January 25, 2022.  A panel discussion of the rectors and presidents of the five universities of EUCOR - The European Campus, moderated by Martin Wiarda, is also being planned, but a date has not yet been set.
Project program: "One University – One Book"
Press release dated April 22, 2021: A winning book choice: Gegen den Hass (Against Hatred)
Application video from the University of Freiburg
Contact:
Dr. Helmut Waller
Central Administration, Department Connected Services
Tel.: 0761/203-96904
E-Mail: helmut.waller@zv.uni-freiburg.de
Judith Burggrabe
Office of University and Science Communications
University of Freiburg
Tel.: 0761/203-96769
E-Mail: judith.burggrabe@pr.uni-freiburg.de