German election debate - Evaluate candidates live and contribute to empirical evaluation
Freiburg researchers' "Debate-o-meter" gets to work for the 18th time
Freiburg, Sep 09, 2021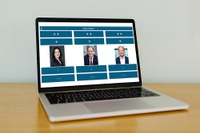 Photo: Sandra Meyndt
For the next TV debate between the candidates for chancellor on September 12, 2021, a team led by Professor Uwe Wagschal, a political scientist from Freiburg, is once again providing the Debat-O-Meter. People can use the online tool to rate the statements and appearances of Annalena Baerbock (Green Party), Armin Laschet (CDU/CSU) and Olaf Scholz (SPD) in real time. "We aim to make an empirical contribution to reinforcing interest in political content and individual reflection on it," Wagschal explains, "and we collect anonymized data via the tool and can provide a debate evaluation soon after the broadcast." The researchers developed the program in 2016, and it is now in use for the 18th time and can be used on all devices. More than 40,000 people used the Debate-O-Meter during the debates for the 2017 Bundestag elections.
Anyone can participate anonymously

Here's how it works: One hour before the debate, the Debate-O-Meter will be activated at this address: https://app.debatometer.com. Anyone can take part, anonymously. First, a short questionnaire asks about previous political preferences. After that, the Debate-O-Meter can be used in real time during the debate. Each of the three candidates are shown as a photo, with plus and minus buttons above and below them. Users can press these buttons if they like or dislike the candidate's statements or appearance. Buttons with a double plus or minus are also available for particularly strong ratings. The buttons can be pressed at any time during the debate and react precisely to the second. Finally, users fill out a questionnaire to indicate whether, or how, their previously specified attitudes have changed. At the end, they receive their personal result.
First analysis of the election debate available the morning after the broadcast - individual result immediately
Immediately after the debate, the researchers use all the data to evaluate who won the debate - and they can identify reasons for victory and defeat, since the viewers' agreement and disagreement with the individual arguments is recorded down to the second. The responses also shed light on the most reactive topics and the candidates' strongest and weakest moments. The results will be published the next morning, September 13, 2021, and can be viewed and downloaded at www.debatometer.com.
Contact
Prof. Dr. Uwe Wagschal
Department of Political Science
University of Freiburg
Phone: 0761/203- 9361
E-Mail: uwe.wagschal@politik.uni-freiburg.de
Bastian Strauch
Office of Public Relations
University of Freiburg
Phone: 0761/203-4301
E-Mail: bastian.strauch@pr.uni-freiburg.de
Pressphoto for download
Photo: Sandra Meyndt