Studies continuing despite a leave of absence
A new regulation compensates for delays in studies and teaching due to the corona pandemic
Freiburg, Apr 20, 2020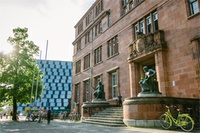 Photo: Sandra Meyndt
The corona statutes adopted by the University of Freiburg on April 17, 2020 are intended to set the parameters to provide the necessary study and examination services, thereby defining the essential framework for the course of study and teaching for the 2020 summer semester. This is the University's response to the effects of the corona pandemic, which has made it impossible to continue regular study and teaching for the coming semester and to complete the previous winter semester. A new regulation for the "leave of absence" semester is now intended to create a framework to compensate for any delays. "With the corona statutes, we are offering our students the maximum freedom of choice and decision within the framework of what is legally possible," says Rector Prof. Dr. Hans-Jochen Schiewer. "It is a central concern of mine that we take individual circumstances and needs into account with this regulation."
Anyone who was unable to complete the required coursework and examination credits on time due to the corona pandemic and is now afraid, for example, of losing financial support such as BAföG due to an extended study period, can take a leave of absence for the 2020 summer semester. This semester will then be counted as a university semester, but not as a subject semester, and therefore does not count towards the standard period of study. The main change is as follows: Although a "leave of absence" semester will be taken, students are still allowed to attend all courses offered digitally without any limitation on the number of participants, to complete courses and take examinations.
In addition, lecturers are allowed to deviate from the specified type of teaching and examination performance during this semester: Digital solutions can be used for any type of oral examination. Exams can be taken in the form of video conferences, for example, at the request of the students. All courses are held digitally, sometimes with additional attendance options. "The regulation benefits, for example, students who are currently abroad and are not allowed to enter the country, or students who had to abruptly end their year abroad. The otherwise necessary tuition fees for international students as well as the fees for a second course of study will be waived if students take a leave of absence," explains Prof. Dr. Juliane Besters-Dilger, Vice-President for Academic Affairs.
As things stand at present, the lecture period for the summer semester at the University of Freiburg will start on May 11, 2020. The delayed start of the lecture period is compensated for by the fact that the lecture-free week of excursions after Whitsun from June 2nd through 5th is no longer applicable and the lecture period ends one week later on July 31st. The lecture period has thus been shortened by one week in total.