State Parliamentary Polls Start the Super Election Year 2021
The online voting aid VoteSwiper opens in Baden-Württemberg and Rheinland-Pfalz
Freiburg, Feb 08, 2021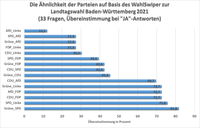 Source: VoteSwiper
Voting during the coronavirus pandemic is a challenge for political parties and voters alike. Traditional election events aren't permitted and campaigning has shifted increasingly to the Internet. The online voting aid VoteSwiper is there to support people in making their decision. It also provides comprehensive information on polling and the candidates. VoteSwiper works like a dating app. Users can swipe to the left or right to agree or disagree with a question it poses. How much the user is in agreement with all the different parties is shown in the results. Examples of typical VoteSwiper questions are: "Should broadcasting license fees be abolished?"  "Should local public transportation be free of charge?" and "Should the legislative thresholds for referendums be lowered?"
But VoteSwiper has even more to offer. The 2019 German Design Award-winning voter support app features videos that present individual issues and information on the parties' positions in "for" and "against" responses to policy questions. The team working with University of Freiburg political scientist Prof. Dr. Uwe Wagschal has evaluated the positions and platforms of the parties that are taking part in the elections in Baden-Württemberg and Rheinland-Pfalz. It's up to the parties themselves to say whether they accept or reject a position.
VoteSwiper has 33 yes-or-no questions for the 17 political parties contesting the election in Baden-Württemberg. The queries encompass 18 different state political issues such as education, security, construction, immigration, finance, and local transportation. There are also questions concerning policies on the coronavirus. In Rheinland-Pfalz all 13 parties vying for votes have answered 34 questions posed for the state by VoteSwiper. After the program is finished, users receive an assessment that shows how much they are in agreement with one of the parties.
When the answering patterns of Baden-Württemberg's parties are evaluated, the results show that the "Linke" (Left Party) and the "AfD" (Alternative for Germany) are furthest from each other in terms of positions. A few small parties, such as "DEMOKRATIE in BEWEGUNG" (Democracy in Motion), the "Piraten" (The Pirate Party), and the newly founded "Klimaliste" (Climate List) – representing the "Fridays for Future" movement – have similar profiles to the "Linke."  As a result, the "Klimaliste," which is standing for election in 67 of 70 electoral districts, is competing directly with the Green Party in the state government.
In Baden-Württemberg the Green Party and the Social Democrats are the most similar. In the center-right parties there is a great deal of overlap between the Christian Democrat CDU and the liberal Free Democrat FDP. The newly-established "WIR2020 Party," which above all gained attention after the coronavirus protests, is running in 68 electoral districts. It has a very independent program. "WIR2020" (WE2020) is quite close to the "Piraten" and the "Bündnis für Christen" (Union for Christians) as well. And the overlap between "WIR2020" with the "AfD" is just as large as that of the CDU with the "VOLT-Partei" (VOLT-Party).
By contrast, there is little content similarity between the partners in Baden-Württemberg's governing Green Party-CDU coalition. Whether a new edition of this political alliance will prevail will be determined on 14 March.
Online information for the media on key findings available on Zoom on 9 February 2021, starting at 10 a.m.
Topic:  Media Information VoteSwiper
Time: 9 February 2021 at 10 a.m.
Zoom Meeting: https://uni-freiburg.zoom.us/j/68844762508
Meeting-ID: 688 4476 2508
Password: dBQRT1XBw
Hint for free-of charge website inclusion:
The VoteSwiper can be integrated free of charge as a tool on the news portal or in articles published by external media. To do this, the VoteSwiper team will provide two HTML codes – one as a normal version and the second as an AMP version. Download: https://www.voteswiper.org/de/press 
Queries: presse@wahlswiper.de