See What It's Like to Be a University Student
The University of Freiburg is opening its doors to high school students to give them a glimpse of academic life.
Freiburg, Feb 10, 2020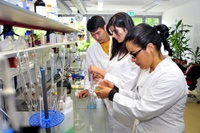 Photo: Thomas Kunz
Whether it's studying minerals and rocks under a microscope, listening to nerve networks, or conducting random experiments or chemical analyses of water, the Open House ("Schnupperstudium") at the University of Freiburg on April 6–9, 2020, will be offering lectures and lab workshops to give high school students a chance to see what the academic world is all about, while also talking to university students and teachers. All interested high school students, especially those in the tenth grade and up, in the greater Freiburg area can register for the event online by March 13, 2020. Up to 330 students can attend.
The Open House gives potential students the opportunity to explore as many as two fields of study every day, including Chemistry, Geosciences, Computer Science, Math, Engineering, Physics, and Chinese. The participants will learn about the different subjects and also get to see what it's like to study at the University. They can eat lunch with university students at the cafeteria, explore the campus, and learn more about what to expect in their first semester from academic advisors.
For more information and to register
Contact:
Dr. Friedrich Arndt
Student Services Center – Central Academic Advising Office (ZSB)
University of Freiburg
Phone: +49 (0)761 / 203-67372
schnupperstudium@uni-freiburg.de
Press photo for download
Photo: Thomas Kunz