Online winter program
The Studium Generale presents two series of lectures for the coming semester
Freiburg, Oct 27, 2020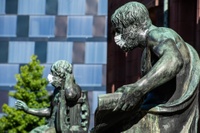 Photo: Klaus Polkowski
The Coronavirus pandemic is pushing the world to its limits in 2020 - and there is no end in sight. Like many other cultural institutions, the University of Freiburg Studium Generale had to abruptly cancel its events or switch to online services in summer semester 2020. In this winter semester 2020-21, the Studium Generale is once again holding its lectures under pandemic conditions. The lecture series "Freiburger Wintervorträge" (Freiburg winter lectures) and "Herausforderung 'Corona': Perspektiven der Wissenschaft" (The challenge of Coronavirus: Academic perspectives) are available online and seek to provide everyone who is interested with interdisciplinary insights into various fields of knowledge at the University of Freiburg.
In the Freiburg winter lectures, researchers at the University of Freiburg address a wide range of topics from literature, art, history, economics, society and the environment. On November 10, 2020, Professor Kerstin Krieglstein, Rector of the University of Freiburg, will kick off the series when she presents her ideas about the contemporary tasks of a university and its role in society.
In the six lectures in the series dealing with the challenges of Coronavirus from an academic perspective, Freiburg researchers from medicine, psychology, theology, history, law and economics will explain the pandemic-related problems currently facing society.
In-person events are not possible in the winter semester 2020/21 until further notice due to current restrictions and precautions. The Studium Generale team has therefore put together a varied online program. "Naturally, we would also like to see events with an audience present again soon," says Professor Werner Frick, Director of the Studium Generale. "Yet, we are very happy that we can reach interested parties with online lectures, recorded in sophisticated picture and sound quality. This service remains accessible at any stage of this unpredictably-developing pandemic."
The lectures will be made available to the public online and will remain available throughout the entire winter semester. In a few cases - which will be flagged - the period of availability will be shorter. Anyone who is interested may view the lectures free of charge on the Studium generale website and on the University of Freiburg media portal.
Media portal: Studium Generale