Fireside chats about Coronavirus
Respected researchers shed light on aspects of the pandemic in an online discussion series
Freiburg, Oct 16, 2020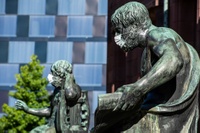 Photo: Klaus Polkowski
What consequences will the coronavirus pandemic have? What developments will it trigger or accelerate? In their recently published anthology, "Jenseits von Corona. Unsere Welt nach der Pandemie – Perspektiven aus der Wissenschaft", Professor Bernd Kortmann and Professor Günther Schulze, directors of the Freiburg Institute for Advanced Studies (FRIAS), explore these questions with prominent authors. As part of this, FRIAS is organizing an online series of Coronavirus fireside chats. In this format, Kortmann and Schulze will discuss a new, key topic every month with various researchers. The events will take place in a hybrid format of face-to-face and online discussion. Interested parties are invited to participate via Zoom. Videos of the chats may be viewed via the FRIAS Mediathek. This service is free.
The first fireside chat is on Wednesday, October 21, 2020, from 6 to 7:15 p.m. and will focus on the new togetherness after Coronavirus -- discussing the effects on behavior, the psyche and social cohesion. On the panel will be Professor Vera King, sociologist and psychoanalytic social psychologist from the University of Frankfurt and Director of the Sigmund Freud Institute, Professor Kai von Klitzing, psychoanalyst and child and youth psychiatrist from the University of Leipzig, and Professor Brunna Tuschen-Caffier, clinical psychologist and psychotherapist from the University of Freiburg.
This will be followed on November 18 by a discussion on the role of populism after Coronavirus with the Freiburg cultural sociologist Professor Ulrich Bröckling, the Berlin political scientist Professor Herfried Münkler and Professor Andreas Voßkuhle, Freiburg expert in constitutional law and until recently President of Germany's Constitutional Court.
On December 9, a discussion will take place on the resilience of our political and economic system in the face of the pandemic. Among others, the philosopher and social scientist Professor Lisa Herzog from Groningen in the Netherlands will talk to the FRIAS directors.
All information about the dates as well as dial-in information for the events can be found on the FRIAS website.