By Teachers for Teachers
Researchers in the Curious doctoral research group publish brochure on the results of research into the teaching profession
Freiburg, Mar 04, 2020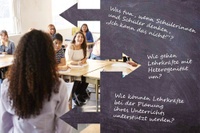 As well as specialist articles, the brochure also contains general guidelines. Photo: "AdobeStock_254378790" Monkey Business – stock.adobe.com "schwarz tafel kreidespuren schule 1072366" von Thanks for your Like – Pixabay
What knowledge do you need to know to teach particle physics? How can mathematics exercises be explained well? Can similarities between French and Spanish be used to teach teachers? What strategies do teachers use to handle heterogeneity in the classroom? PhD students in the interdisciplinary Curious doctoral research group at the University of Freiburg and the Freiburg School of Education have investigated these questions. Now, they have published the results of their research in a wide-ranging brochure.
On a variety of Curious projects which are run by the Freiburg Advanced Center of Education (FACE), the researchers studied the challenges teachers encounter in their career and what support can be given to help them cope with them. "It's important to us that the findings can be implemented in real life. So we've published this brochure to give teachers a comprehensive range of ideas for action," says Prof. Dr. Matthias Nückles from the Department of Educational Science at the University of Freiburg, who headed the doctoral research group together with Prof. Dr. Timo Leuders from the Freiburg University of Education. Training to become a teacher will only improve when challenges from teaching practice that are observed in research and the findings can be drawn on in real life.
As well as specialist articles, the brochure also contains general guidelines on cooperations between researchers and schools which were developed by the practical research group that is also part of FACE. "We summarized this information in a Code of Conduct," explains coordinator Dr. Martina von Gehlen of the Freiburg University of Education. One of the tasks of the practical research group is to establish and develop a cross-institutional network of schools and higher education institutes. Maintaining autonomy and the voluntary nature of the cooperation is important to all those involved, von Gehlen adds. For any inquiries about cooperating, please visit the "Forschung in Schulen" website.


"Forschung in Schulen" website