Youth University of Freiburg
Press briefing on new format for relaying knowledge to young people
Freiburg, Mar 26, 2019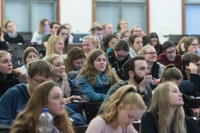 Photo: Patrick Seeger
The University of Freiburg's "Studium generale" is trying out a new format for imparting knowledge to young people. In the summer semester of 2019, it will hold the Youth University of Freiburg. Unlike "youth universities" elsewhere at other institutions of higher learning in German-speaking countries, this program is for young people from 14 to 18 years of age, particularly those in college preparatory programs – therefore those in the 9th to 13th grade at gymnasium. The Freiburg Alumni Booster Association "Förderverein Alumni Freiburg e.V.," and the Sparkasse Freiburg – Northern Breisgau are providing financial support for the new offering.
Press briefing: Tuesday, 2 April 2019 at 10 a.m.
University of Freiburg, Rectorate Building
Kaiserstuhl Room (06 003), 6th Floor
Fahnenbergplatz, 79085 Freiburg
"Studium generale" director, Dr. Werner Frick, Prof. Dr. Juliane Besters-Dilger, Vice President for Academic Affairs, and Rudolf-Werner Dreier, the director of the Freiburg Alumni Booster Association will introduce the new format.
The aim of the Youth University of Freiburg is to present to school pupils in a lively, clear, concrete way a "fascination with knowledge" and familiarize them with the world of research at a major, traditional university, including its broad choice of faculties and subject areas.
We look forward to seeing you.