Ways to Explore the Brain
The latest round of a series of lectures at Bernstein Center Freiburg is starting on Monday, 28 October 2019
Freiburg, Oct 21, 2019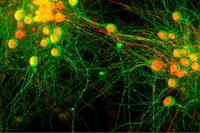 The lecture series is directed at a wide audience with a general interest in the latest in brain research. Photo: BCF/Okujeni
Do sports make you smart? How does the brain work? What can brain-computer links do and what can't they do yet? These are a few of the questions that neuroscientists from Germany and Switzerland will address in the lecture series called "Ways to Explore the Brain" ("Wege zur Erforschung des Gehirns").The clear presentations of these topics will be followed by a generally understandable discussion. The lecture series addresses a wide audience with a general interest in the latest brain research. Prof. Dr. Michael Bach of Freiburg University Medical Center will give the first presentation. He will ask if vision in humans is merely a product of imagination, and report about, among other things, what can be learned from studying optical illusions.
"During the last Winter Semester, the interest in our lecture series was very high," says Prof. Dr. Stefan Rotter, director of the Bernstein Center Freiburg. "That's why we're happy to have acquired a number of leading researchers to give evening lectures this semester. We really think it's important to present current issues in brain research in a generally understandable way."
Topics are, among other things, how childhood shapes thinking, findings about neural information processing that have been derived from weakly electric fish, or how development and repair of the brain functions. The Bernstein Center Freiburg – a central research facility for experimental and theoretical research in the areas of computational neuroscience and neurotechnology at the University of Freiburg – is organizing the event in cooperation with the Faculty of Biology.
The lectures will take place on thirteen Mondays during Winter Semester 2019/2020. They will start at 7 p.m. in the "größer Hörsaal" in Biology II/III, Schänzlestraße 1, in 79104 Freiburg. An opportunity for discussion will follow the 40-minute lectures in German. Entry is free of charge. Registration is not required.
For the complete program online