University of Freiburg Receives Pink Floyd Collection
The Center for Popular Culture and Music will use the collection to research the social role of fans
Freiburg, Jun 17, 2019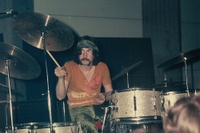 Pink Floyd's drummer Nick Mason during a concert in the band's early years. The photographer is unknown. Source: ZPKM Collection
The Zentrum für Populäre Kultur und Musik (Center for Popular Culture and Music), or ZPKM for short, at the University of Freiburg has received a uniquely large fan collection focusing on the legendary British rock band Pink Floyd as a donation from Rolf Ossenberg. "This collection provides insight into the many different activities and experiences associated with the social role of fans," executive director Dr. Dr. Michael Fischer says, explaining why the collection is important to the ZPKM. Ossenberg was not just interested in collecting music storage media, but also in accumulating knowledge – the collection also includes, among other things, roughly 300 books about the band in different languages.
Ossenberg also filled 27 organizers with newspaper, journal, and magazine articles and collected audiovisual media, including more than 500 video cassettes with recordings of the band's TV appearances and concert performances. Completing the collection are sound storage media, DVDs, press photographs, flyers, posters, merchandise, autographs, and concert tickets.
Music fans understand well the intimate relationship we develop to songs, albums, and music stars. Fandom is culturally very important, which is why it is such a major focus of research in music, media and cultural studies. "Real fans follow the artistic careers of popstars closely and are more than happy to buy their products. The basic formula behind this is 'no fans, no stars,'" says Associate Professor (Privatdozent, PD) Dr. Christofer Jost, who is also a researcher at the ZPKM and head of its Archive for Pop Music Cultures. "The Pink Floyd collection offers an opportunity for researchers to gain a deeper understanding of the reception of popular music. It is also a chance for them to better understand how fans develop and maintain identification with a band and to study the different channels of communication fans used in the pre-digital age to acquire information about bands."
The Pink Floyd Collection is the second large-scale fan collection revolving around a major British rock band to be researched at the ZPKM after the center received the Reinhold Karpp Rolling Stones Collection in 2017 as a permanent loan.