"Stand Up with Us, Be Loud!"
1500 people took to the streets in Freiburg on 30 October 2019 in support of better higher education funding
Freiburg, Oct 30, 2019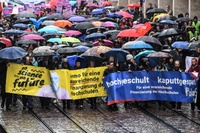 Photo: Patrick Seeger
Freiburg's five higher education institutions have joined forces to put pressure on the Ministry of Finance in Stuttgart. 1500 students, researchers, teachers, and members of administrative, service, and technical staff took to the streets on 30 October 2019 to demonstrate for adequate higher education funding. In view of the ongoing negotiations on a new higher education funding agreement, their aim was to draw attention to the increasingly drastic situation. The higher education institutions call for more funding to cover things like the necessary digitalization of research, teaching, and services, better support for students and doctoral candidates, and more job security for administrative, service, and technical staff.
The demonstration in Freiburg began at 12 o'clock noon on the Platz der Alten Synagoge. Holding aloft signs and banners, the demonstrators then marched along Rempartstraße, past Augustinerplatz and Bertoldsbrunnen, and on to Europaplatz, before returning to the Platz der Alten Synagoge nearly two hours later for a final rally.
"We have borne the professional burden of the insufficient basic funding in the past years – but now we have reached the breaking point. Our demands are reasonable. If they are not met, the result will be fewer places for admission, reduced course offerings, less service, and lower library budgets," said Prof. Dr. Hans-Jochen Schiewer, Rector of the University of Freiburg, of the impending consequences. "That would be a fatal signal for Baden-Württemberg as a center for science and research, for the innovativeness and cohesion of our society, for the developmental opportunities of future generations." He called on the demonstrators to "Stand up with us, be loud!" also in the name of the leaders of Freiburg's other higher education institutions.
Carlotta Rudolph from the board of the University of Freiburg Student Council, who also spoke on behalf of the students of the other higher education institutions, emphasized the special function educational institutions fulfill in society: "This is where the minds of tomorrow are educated. They are the ones who tackle the core issues for the future of our society on the basis of their expertise and who contribute to social progress. In doing so, students learn to take responsibility for society as a whole. By the same token, their research as a whole helps to find answers to these core issues. In addition, education and research at universities promotes diversity, tolerance, and international exchange."
Dr. Helmut Waller, chair of the University of Freiburg Staff Council and representative of the staff councils at the University of Education and the University of Music, criticized the state's common practice of financing a large part of the higher education budget with non-permanent special programs: "I ask myself, what importance do research and education have when it's evidently no longer a matter of course to make adequate funding for them available in the state budget? What depressing lack of vision is at the bottom of a plan that relies on additional agreements to secure the basic funding of universities and thus to make investments in our future, rather than including these investments as a permanent part of the budget?" Waller stressed that the universities urgently need money to offer highly qualified staff reliable future prospects. "The many fixed-term contracts are a source of great insecurity for many people. The salaries are often far lower than those offered by other institutions and lower than what would actually be appropriate."
On the initiative of the State Conference of General Student Committees, students across Baden-Württemberg held a day of action under the slogan "Hochgeschult – kaputtgespart" on 30 October. The state universities and higher education institutions supported the initiative with a campaign called "No Science, No Future."
nosciencenofuture.de
hochgeschult-kaputtgespart.de
Joint press release by Freiburg's higher education institutions