On the go at night in Freiburg
Online survey about young people's night locations provides new insights into preferred activities
Freiburg, Jan 23, 2019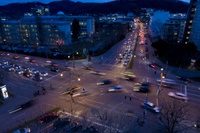 Freiburg at night: an online survey wants to gain new insights and a differentiated picture of the evening and night activities of young people. Photo: Jürgen Gocke
Parties, concerts, nights of drinking: When young people go out in Freiburg in the evening, their activities and the mobility they bring with them make them an integral part of urban life. They spend time in public spaces and private places. The inner city in particular becomes young people's focus. However, little is known about what they actually do in the evening and at night, how often they travel and what their respective preferences and restrictions are when it comes to evening entertainment.
Prof. Dr. Tim Freytag and his research group at the Institute of Environmental Social Sciences and Geography at the University of Freiburg hope to gain new insights and a differentiated picture of the evening and night activities of young people. As part of research project "Nacht-Orte" (Nocturnal Locations), an online survey will be carried out in which young Freiburg residents will be able to describe their habits and express their wishes and suggestions. The survey will be available from January 22 through February 20, 2019 at https://ww2.unipark.de/uc/NachtOrte/
The survey will initially focus on evening activities during the winter months, with a second survey planned for the summer of 2019.
The research project "Nocturnal Locations" is intended to help gain a better understanding of the activities of young people during the evening hours and at night in urban spaces. "We want to empirically test old but widespread clichés using a robust database," explains Freytag. The aim is to find out whether different patterns of evening activities for young people co-exist, which raises the question of whether and how the respective decision for or against certain activities depends on different factors. In addition, the research project will show which activities are predominant in the various districts of Freiburg. A particular concern of the research project is ultimately to collect the wishes and suggestions of young people and bring them into the public debate on the use of public and private "nocturnal locations" in Freiburg.
Background information
In the research project "Nocturnal Locations", which is funded by the German Academic Exchange Service (DAAD), Tim Freytag and his Freiburg human geography team are cooperating with scientists from the Université Paul Valéry Montpellier III. In both cities, research is being conducted on "nocturnal locations" and the "design of the urban night". The project will end on December 31, 2019.